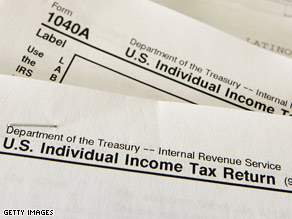 FROM CNN's Jack Cafferty:
President-elect Barack Obama and Congressional Democrats are working on a plan to offer businesses and individuals $300 billion in tax cuts. Forty percent of it would come from an emergency stimulus package that is expected to total in the neighborhood of $775 billion.
Mr. Obama wanted the stimulus package on his desk when he assumes the presidency in 2 weeks. But this is Congress he's dealing with, and now we're being told they can't possibly have anything ready for his signature before early February. Meanwhile the economy continues to suffer big time. And the predictions are that without help things will likely get a lot worse.
The tax cuts are supposed to be the incentive Republicans need to support the stimulus package which is supposed to create jobs, jump start the economy and eventually help to turn things around.
The largest piece of the plan comes from the campaign trail. Something Mr. Obama called "Making Work Pay" which promised tax cuts of $500 per person or $1,000 per family.
Economists remind us that the rebate checks that were sent out last year to get people spending didn't work, so who knows if this will.
Here's my question to you: Is now the right time for additional tax cuts?
Interested to know which ones made it on air?
Mitchell from Arkansas writes:
Not for the wealthy. President-elect Obama said he would roll back the Bush tax cuts for the wealthy. He's already compromising that away. Someone has to pay or we just go further in debt. If he starts going back on campaign pledges, he will lose his support quickly.
Donna from Florida writes:
NO, NO, NO. We need to spend all of the money on creating jobs.
Romnak from Corbin, Kentucky writes:
Yes, Yes, Yes. As a small business man I need my share of the bailout so I can keep my crew working. I'm a home builder and do remodeling and restoration. Now is the time for everybody to keep prices low and reasonable and even discount them just to keep everybody going.
Jean writes:
If tax cuts are reduced to a bargaining chip then we are up the creek. This is a sorry state of affairs.
Phillip writes:
Now is definitely NOT the time for additional tax cuts. What this country needs now is good old fashioned Keynesian styled fiscal stimulus. Public works projects that put people to work (and thereby paying taxes). The infrastructure of this country is falling behind that of the rest of the industrialized world. President-elect Obama needs to look less at Lincoln and more at FDR.
Ken from North Carolina writes:
The economy will begin to make it's turn around now that you are back Jack but the proposed tax cuts will help even more. I used my last one to stimulate the economy. I know it worked because the sales clerk smiled when I gave her my money.