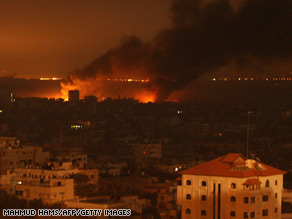 FROM CNN's Jack Cafferty:
It's been ten days since Israel launched attacks on Gaza. Since then, President-elect Barack Obama has remained silent on the conflict.
As an excuse, Obama is sticking to what he said right after the election, that there's only one President at a time and therefore it's up to President Bush to comment. He was even asked about it today and continues to say that he won't say anything.
Two of Obama's closest lieutenants, Joe Biden and Hillary Clinton have also managed to remain silent. Meanwhile many U.S. politicians have backed Israel.
Obama's critics are saying he isn't doing himself any favors with his silence. The Guardian newspaper says that as each day passes hopes are diminishing that Obama will make a fresh start in U.S. relations with the Muslim world and that he is losing ground with Muslims and Arabs. Al-Jazeera television showed video of the President-elect vacationing in Hawaii juxtaposed with video from Gaza.
Here's my question to you: Is President-elect Obama making a mistake by remaining largely silent on the situation in Gaza?
Interested to know which ones made it on air?
JR from Norfolk, Virginia writes:
C'mon Jack. Obama is just doing what he has always done as a Senator, voting "present".
Danni writes:
It is indeed a mistake. If President-elect Obama can speak about the economy now, why can't he speak on international affairs like Gaza? You can't keep telling people that there's only one President and that you can't comment on one topic, but keep talking about every other topic. Either step up all the way, or stand down till it's your time.
Rich from San Clemente, California writes:
The least he could do is call for a cease fire so that humanitarian aid can reach the people of Gaza. If the years-long blockades were lifted and Gaza was allowed to participate in the world of nations instead being imprisoned and starved by Israel maybe the homemade rockets would stop coming from Gaza.
Alan from Buxton, Maine writes:
Obama is justified in remaining silent until he actually has some authority to speak for the U.S. He is at present a private citizen who once was a Senator. Any involvement on his part would be inappropriate.
Ricky from Roseville, Michigan writes:
There's a difference between influencing opinions and influencing policy. Senator Obama won't influence Bush's decision-making on the Middle East by simply stating his opinion on the escalating situation. As he is going to be our next President, it would be a good idea to hear something about the situation from him soon.
Rich writes:
No. He should immediately upon his swearing in change the course in the Middle East. Go there, sit down with Israel, Abbas, and the Hamas leaders and hammer out a deal. Hamas was elected by the Palestinians. Elections pushed by the Bush administration. Funny how Democratic principals do not always end up as you would like, but that's Democracy. Everyone gets a voice.
Bodo from Ann Arbor, Michigan writes:
As Mr. Obama has repeatedly stated, there is only ONE President. But as Representative Barney Frank has remarked, Mr. Obama is exaggerating the number of Presidents.