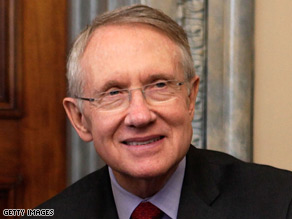 FROM CNN's Jack Cafferty:
The Obamas have arrived in Washington, and the Bushes are on their way out. The inauguration is just a couple weeks away.
The Bush Administration is, of course, trying to go out on a high note.
But leave it to "Mr. Sensitivity," to throw cold water on that idea. Yesterday on "Meet the Press" Senate Majority leader Harry Reid called President Bush, "the worst president we've ever had." Sort of the pot calling the kettle black, I mean Reid is not exactly a day at the beach himself.
It's not the first time Reid has said stuff like this publicly. In the past he called President Bush "dangerously incompetent." Reid isn't holding back even as President Bush packs his bags to leave town. You wonder why there's so much partisanship and ill will in Washington?
Reid doesn't seem to regret any of his words either. In the interview he said he just calls things the way he sees them. What a charming fellow.
Here's my question to you: Is Harry Reid calling President Bush, "The worst President we ever had," an unnecessary cheap shot?
Interested to know which ones made it on air?
Greg from Ontario, Canada writes:
When did we start defining the truth as a "cheap shot"? The Bible may say that Jesus said "judge not yet you be judged" but he wasn't dealing with a George Bush.
John writes:
Reid is being unnecessarily nasty, and while it is serious business, phrasing it like he did is not being as bipartisan as the Democrats need to be to make this administration work.
Brian from Trinidad writes:
It was more of a personal remark than should have come from any Senate Majority leader and yes, it was the cheapest of the cheap shots. But you have to consider the source. Reid is no prize himself, as he has proven since the Democrats took control of the Senate.
Mike from Syracuse, New York writes:
Given that Congress for the last 2 years under Reid and Pelosi's leadership is even less popular than Bush, I'd have to say that he has no standing to complain about Bush. He is also undercutting the message Obama is trying to send of bipartisanship. Reid needs to go!
Eileen from Peabody, Massachusetts writes:
Yes it is. Does he think his comment is some kind of epiphany? We all know the facts, and he should show some semblance of courtesy to keep his mouth shut. What I do foresee here is that President-elect Obama is going to have his biggest fight with the likes of Reid if he intends to change politics as usual.
Ken from Stratford, Connecticut writes:
If the shoe fits, fling it. History, no matter how hard he's been trying to change it, redact from it, spin it or sell it, will not be kind to George W. Bush. He will go down in history as the worst President America has ever had, and we've had some beauts!
Lois from Canada writes:
Yes it was, and who does he think he's talking to? It's insulting to average minded people to assume we all didn't know this already!