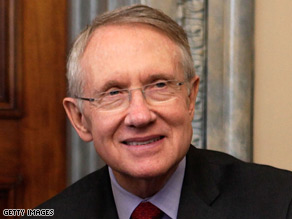 FROM CNN's Jack Cafferty:
The Obamas have arrived in Washington, and the Bushes are on their way out. The inauguration is just a couple weeks away.
The Bush Administration is, of course, trying to go out on a high note.
But leave it to "Mr. Sensitivity," to throw cold water on that idea. Yesterday on "Meet the Press" Senate Majority leader Harry Reid called President Bush, "the worst president we've ever had." Sort of the pot calling the kettle black, I mean Reid is not exactly a day at the beach himself.
It's not the first time Reid has said stuff like this publicly. In the past he called President Bush "dangerously incompetent." Reid isn't holding back even as President Bush packs his bags to leave town. You wonder why there's so much partisanship and ill will in Washington?
Reid doesn't seem to regret any of his words either. In the interview he said he just calls things the way he sees them. What a charming fellow.
Here's my question to you: Is Harry Reid calling President Bush, "The worst President we ever had," an unnecessary cheap shot?
Interested to know which ones made it on air?