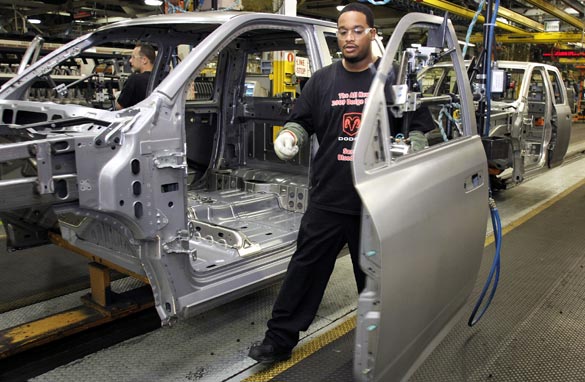 (PHOTO CREDIT: BILL PUGLIANO/GETTY IMAGES)
FROM CNN's Jack Cafferty:
The White House continues to drag its feet on a bailout for the auto industry in the wake of failed attempts to get help from Congress. The impasse came when the United Auto Workers Union refused to agree to wage cuts.
This morning President Bush said he still hasn't decided what to do but his press secretary later said he's considering an orderly bankruptcy. Of course the point of the automakers begging for a bailout was to prevent bankruptcy and the collapse of the industry.
Chrysler announced plans to close down all 30 of its manufacturing plants for one month effective tomorrow. Their finance division says it may have to stop making loans to dealers.
Ford had previously announced their own plans to close 10 factories to cut first quarter production in 2009. In the meantime, the Wall Street Journal reports that GM and Chrysler are rethinking the possibility of a merger, although sources tell CNN that is not true.
Here's my question to you: Is it already too late to save the auto industry in its present form?
Interested to know which ones made it on air?
Dave from Granville, Ohio writes:
No, it is not too late yet. But it will be if Bush persists in the "managed bankruptcy" madness. Do these ideologues bent on breaking the unions not understand that nobody, repeat NOBODY will buy a car from an auto company in bankruptcy, however "managed" it might be?
Tom from Avon, Maine writes:
I hope so. We want the auto industry we have been demanding for the last 30 years, one that is environmentally, strategically, and socially responsible. That isn't what we have right now. We have a monster dreamed up by big oil and created in the lab of lobbyists.
Ron from San Diego, California writes:
No I don't think it is too late. However, there should be good visibility as to how they are making changes. And there should be tight government control over how they proceed. I think the current CEOs and FCOs need to step down before any government assistance is handed out.
Anthony from Wildwood Crest, New Jersey writes:
Yes, and that is a good thing. The industry failed to be proactive and failed to adjust to the times. It sought profit over doing the right thing. Now that the ship is sunk, they want help? I don't think so! The auto industry needs to start from the beginning with new people and new ideas.
Ralph from Yakima, Washington writes:
This is why the President is probably delaying, the Katrina syndrome, where he passes the buck, ignores the problem, or blames others for his failure. How would you like the history books read you destroyed General Motors? It's completely irresponsible behavior and it's typical George W. Bush.
Cathy writes:
It is going to be too late by the time that President Bush makes any kind of decision. If Paulson can be given a blank check for his old company, why can't the car makers have $15 billion? The answer lies in the attempt to break unions that keep wages at a level that people can actually stay in houses and pay bills, and the benefits that more companies are cutting or eliminating. If these car companies fail, it will take this economy over the edge it's balanced on.