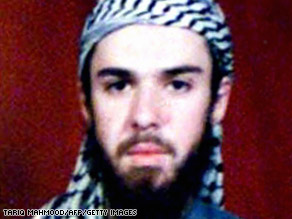 FROM CNN's Jack Cafferty:
The parents of John Walker Lindh, the American-born Taliban fighter, held a press conference pleading with President Bush to pardon their son before he leaves office next month.
The 27-year-old San Francisco man was captured in Afghanistan by Northern Alliance forces in 2001 after he was shot and wounded during a prison uprising. He was turned over to American authorities.
In 2002 Lindh was sentenced to 20 years after pleading guilty to serving in the Taliban Army. He's currently at a federal prison in Indiana.
His parents asked the President to show mercy for their son during the Christmas season. His father repeated what he's said in the past, that his son ended up in Afghanistan during a civil war while studying Islam abroad, saying he joined the Taliban with no intention of fighting against America.
While in office 10,000 petitions have been filed requesting pardons from the President. Fewer than 200 have been granted. Lindh's request is in a pile along with those for former Illinois Governor George Ryan, and junk bonds salesman Michael Milken. There's speculation that Bush may pardon former Cheney Chief of Staff Scooter Libby. He already commuted Libby's prison sentence. Libby was convicted in connection with the Valerie Plame CIA scandal.
Here's my question to you: Should President Bush commute the sentence of John Walker Lindh, the so-called Taliban American?
Interested to know which ones made it on air?
Dave writes:
It simply is not in Bush's character to pardon this individual. Remember his Governor's actions in Texas and the executions recorded? This is not a forgiving man!
Al from Iowa writes:
John Walker Lindh is as much a victim of the Bush/Cheney Neo-con pre-emptive war oil grab strategy as the one hundred thousand (minimum) dead innocent Iraqi women and children, the four million displaced Iraqi refugees, and the fabled heroism of Jessica Lynch. They have all been used, abused, and killed for the control of fossil fuels wrapped up in the farcical ideology of spreading democracy. He deserves a full presidential pardon at least as much as Scooter.
Pat from Georgia writes:
NO! If Bush commutes Lindh's sentence, he's saying its okay to be a terrorist if you happen to also be an American. But then, Bush didn't think Scooter Libby deserved what the judicial system meted out, and he didn't object to waterboarding and torture, and he condoned listening in to private phone calls. So who knows what he'll do as he slithers out of office.
Lyn writes:
No, probably not. But I do not adhere to the idea that there is no room for forgiveness either. He is as much a victim of terrorism as other young men and woman who rallied to this particular cause.
Terry from North Carolina writes:
No pardons for anyone.