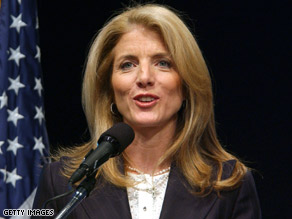 FROM CNN's Jack Cafferty:
Caroline Kennedy is positioning herself to be appointed to fill the Senate seat that will be vacated if and when Hillary Clinton is confirmed as the Secretary of State.
The daughter of the late President John F. Kennedy called New York Governor David Paterson, who will be appointing someone to the seat, to express her interest. Yesterday she traveled around upstate New York for closed door meetings with Mayors, Union leaders and other officials. Along the way she touted her devotion to public service, her books on the Constitution and raising her family. And today she had lunch in Harlem with the Rev. Al Sharpton.
Although it seems like a campaign, it's not. There's no election, at least not until 2010 when whoever is appointed can run for the seat.
According to the New York Times, Kennedy is winning hearts but some Democrats worry about her sense of entitlement and the message that politics is reserved for the upper class. That's leading to some grumbling among some Democrats.
According to a poll by Siena College, Kennedy is not a clear favorite - 26% favor New York Attorney General Andrew Cuomo compared to 23% favoring Kennedy. However, 31% believe Governor Paterson will give the seat to Kennedy.
Here's my question to you: Could appointing Caroline Kennedy to fill Hillary Clinton's Senate seat cause a backlash within the Democratic Party?
Interested to know which ones made it on air?