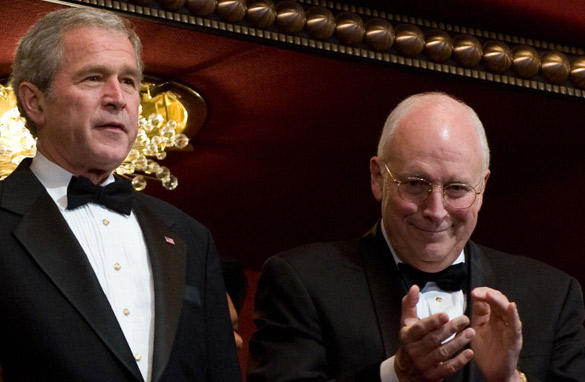 (PHOTO CREDIT: SAUL LOEB/AFP/GETTY IMAGES)
FROM CNN's Jack Cafferty:
Vice President Dick Cheney gave an interview to ABC's Jonathan Karl in which he defended the administration's decision to invade Iraq, the war on terror, water boarding, Guantanamo and more. Yesterday President Bush gave a similar interview to our Candy Crowley.
With only 34 days left in office both men are reflecting on the past eight years and perhaps thinking about their legacy and how they'll be remembered.  It's a time to talk up their accomplishments in the hopes that critics attention will be diverted from the other stuff.
Bush and Cheney are leaving Washington in the middle of two wars and the worst economic downturn since the Great Depression.
There is certainly no shortage of memories of our 43rd president. Everything from speaking at Ground Zero after the 9/11 attacks to the time he choked on a pretzel and fainted while watching Sunday night football.
Then there's the Vice President. He has redefined the role of the Nation's second in command. He will long be remembered for that but also for shooting his hunting companion in the face in 2006.
Here's my question to you: Who will history be kindest to: President Bush or Vice President Cheney?
Interested to know which ones made it on air?
Philip from Toronto, Canada writes:
Kinder to Bush, he is just a dupe and a slow thinker, propelled from failure to failure by his father's political and financial connections. Cheney on the other hand is evil, self absorbed and more than likely an undiagnosed sociopath. A power-mad Rasputin unrestrained in his own lies and deceits. He feels no one's suffering except his own.
Marie from Ontario writes:
History will be kinder to Bush as he is widely regarded simply as a buffoon in need of adult supervision and totally under the influence of Cheney and the other extremists. On the other hand Cheney is viewed more as a very evil and sinister figure that operated in the shadows to gain benefits for himself and his corporate buddies.
Judy from Exeter, California writes:
It seems Bush is taking the lead here. The White House has given its priority to cleaning up the images of both men, so we can all look upon them with great admiration in the future. I wonder how long it will take for the families of our fallen soldiers and those of the dead and maimed Iraqis to change their minds?
Marie writes:
Bush. People tend to forgive incompetence before malice.
Wariz from New Jersey writes:
I deeply hope that when my children are studying this period in American History class, Cheney and Bush will appear as nothing more than a blip. A long forgotten memory of a dark period in our country's history. Let us look forward to new leadership and new beginnings.
Alan from Buxton, Maine writes:
Historians are the greatest fiction writers ever so who knows what they might say. Bush is just stupid but Cheney is evil so they will have to use their imaginations to rewrite the last eight years to make either of them look human.