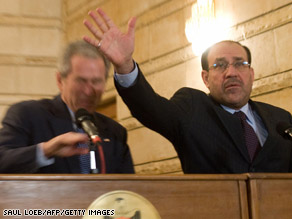 FROM CNN's Jack Cafferty:
The Iraqi journalist who threw his shoes at President Bush during a press conference in Baghdad went before a judge last night. A source at the Iraqi Central Criminal Court told CNN he will likely be charged with assaulting a foreign head of state.
According to wire reports, Iraqi law dictates that he could face seven years in prison. And whether you agree with the war in Iraq or not, it probably saved this man's life. If he had thrown his shoes while Saddam was in power he likely would have been executed on the spot.
Instead he was arrested and promptly put in jail. Thousands of Iraqis are calling him a hero and are rallying for his release.
When asked by CNN's Candy Crowley yesterday what should happen to the man, President Bush said authorities shouldn't overact. He called the incident an interesting form of expression and added that it's part of the free society emerging in Iraq.
The man will stand trial, perhaps as early as next week, and reportedly be represented by a lawyer who said he will file a request to have his client released on bail.
Here's my question to you: What's the appropriate punishment for the man who threw his shoes at President Bush?
Interested to know which ones made it on air?
David writes:
If he has any musical talent, he should be signed as an opening act for The Dixie Chicks.
Tricia writes:
Regardless of how you feel about the President of the United States, when he is outside of the country he is representing us. You are allowed to disagree with our policies, you are not allowed to disrespect a representative of our country and as such, he should face jail time for his actions.
Earle from Woodstock, Vermont writes:
Chop his feet off and have them bronzed for Bush!
Charles from Lansing, Michigan writes:
Sainthood isn't good enough.
Nancy from Grand Ledge, Michigan writes:
What would happen to a shoe thrower in this country? He should be punished! It bothers me more that he was able to throw two shoes! Where was the Secret Service? All they did was hit Dana Perino with a microphone. What if the shoe is a shoe bomb next time? Which of them is being punished?
STR writes:
I think he should be free on bail and perhaps have to do community service by speaking to journalism students about how to control urges to do stupid things.
Paula from Albuquerque, New Mexico writes:
He should receive the highest decorations of the sovereign nation of Iraq, and have a statue erected in his honor. A broad and well-traveled boulevard should be named for him, as well as the premier hospital facility in Baghdad. A school or two should bear his name, and his likeness should adorn Iraqi postage stamps. He is a man of courage.