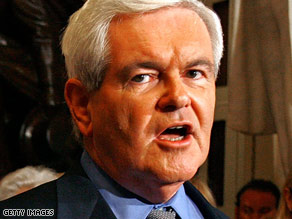 FROM CNN's Jack Cafferty:
Former House Speaker Newt Gingrich wrote a letter to the Chairman of the Republican National Committee voicing his disapproval of a three-minute video they put together aimed at linking President-elect Barack Obama to allegedly corrupt Illinois Governor Rod Blagojevich.
Gingrich wants the video pulled and says this is the kind of attack ad that voters rejected in 2006 and again this year. He calls the ad a "destructive distraction." Instead, he suggests the RNC focus on helping Obama successfully meet the serious challenges that face the nation. Now there's an idea: bipartisan cooperation. Gingrich says the Republican party should offer better solutions instead of just opposing Obama.
Sen. John McCain also called for the ad to be pulled during an interview and said his party should, instead, focus on the financial crisis.
Most Americans might agree. According to a Gallup Poll, Republicans in Congress are getting lower approval ratings than President Bush. Only one in four approve of the job Republicans are doing in Congress. That's the worst rating they've had since Gallup started keeping track in 1999.
Here's my question to you: What should Republicans be doing to help President-elect Obama?
Interested to know which ones made it on air?
Tom from Desoto, Texas writes:
Re-join the 21st century already in progress. They've collectively been on hold since January 20, 2001.
Judy from Arizona writes:
I don't think they have the slightest interest in helping Obama or our country. That is why they lost the election.
Andy from Fairfax, Virginia writes:
They kindest gift would be to keep their mouths shut for the first year. Let the President-elect start his programs and unless their is a critical point of disagreement keep the politicking in the back room and off of air waves.
John from Fort Collins, Colorado writes:
The GOP should listen to John McCain and pull the plug on petty politics at least until the country gets back on its feet. A very refreshing concept, but I doubt it will ever happen. The RNC is buried too deep in the manure to change their ways.
Rose from Arizona writes:
I think they should do what they were elected to do. The voters of their states trust that they will serve this country well. I believe that they may not agree with all of the proposals that Obama makes but on the other hand if they don't like something and plan to vote against it they should have a better option to offer. There are a number of Republican Senators that have a lot to offer.
JR writes:
It's simple, they should fire Hannity and Limbaugh as their party leaders and think for themselves. The rest of us do.
Gene writes:
They should be very quiet and let the adults put the pieces back together again.