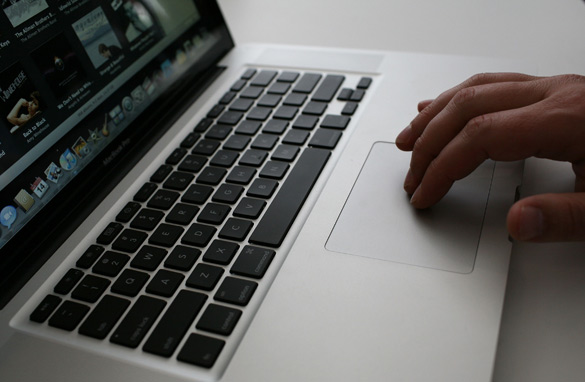 (PHOTO CREDIT: JUSTIN SULLIVAN/GETTY IMAGES)
FROM CNN's Jack Cafferty:
There's no denying that the internet has changed our lives. Information is just a click away and people get less sleep because they are logged on.
In fact, the internet is so popular that a lot of people prefer it to sex. Say what?
More than 2,000 adults were questioned in a survey by Harris Interactive. 46 percent of women said they'd rather give up sex for two weeks than give up internet access. Men, apparently, prefer sex a little more, only 30 percent were willing to practice abstinence versus losing their internet access.
But it's not just about sex - although without that hook we probably wouldn't have done this story. TV is loosing ground too... respondents said they'd be willing to give up two weeks of TV over one week of Internet use.
The survey was commissioned by microchip maker Intel to gauge America's reliance on the Internet. 87 percent of those questioned said the Internet saves them money - which could make the world wide web even more popular since we're in the midst of a recession and everyone is looking to save money any way they can.
Here's my question to you: Which would you be willing to give up for two weeks: sex or the Internet?
Interested to know which ones made it on air?
Kelly writes:
Do I have to choose? I would have to give up sex. The internet has become such a large part of my business that my income depends on it. Thankfully my income doesn't depend on sex.
Jonni from Los Angeles, California writes:
I'm married, I already gave up sex. I'm not giving up my internet, too!
Annie from Atlanta, Georgia writes:
Well, here I am again, as is the case every Monday through Friday, so there you go. Have you considered doing this on Saturday and Sunday too?
Bill from Medford, New Jersey writes:
Well, let's see: they both require at least some up-front investment, and they sure both require skill if a person is to properly enjoy their benefits. And of course, a person can catch nasty viruses from either one. I'm not so sure they're not the same thing.
Scott from Santa Maria, California writes:
Sex? What's that? Hold on a sec. I've got an instant message coming in.
Anne from Vero Beach, Florida writes:
Maybe I just haven't met the right man but, yeah, the internet is more interesting than sex. When my computer is malfunctioning and I don't have access to the net I feel downright panicky. Sad, I know. So, yes, I think we have all become too dependent on it and who knows where this dependency will lead?
David from Raleigh, North Carolina writes:
The internet is great. It doesn't talk back.
Jay from Atlanta, Georgia writes:
We could do without the net, but life would be slower and I'm guessing newspapers would be happier. In terms of 'better than sex', I never woke up in the morning having to consider gnawing off my own arm to make a clean getaway from the Internet.