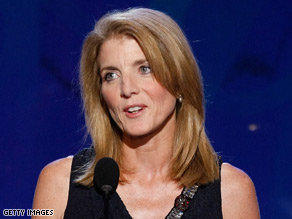 FROM CNN's Jack Cafferty:
Caroline Kennedy says she wants Hillary Clinton's Senate seat. Her resume is long on politics and short on public office. She hasn't had a full time job in years and has never held an elected office.
Last week New York Representative Gary Ackerman, a Democrat, said Kennedy's only qualification was name recognition. In a radio interview he said she is no more qualified than Jennifer Lopez to be a Senator.
According to the New York Times, Kennedy worked 3 days a week as director of strategic partnerships for the New York City schools for just under two years.
Other than that, most of her time has been spent on boards for various non-profits, which has included raising millions of dollars for some causes.
But the usually private 51-year-old daughter of the late President Kennedy feels this has prepared her for the job and she has asked New York's Governor David Paterson to appoint her.
Critics have been quick to note her lack of experience but friends and family are coming out too saying her behind the scenes work over the years is exactly what has prepared her for this job.
Here's my question to you: What qualifies Caroline Kennedy to suddenly become a member of the U.S. Senate?
Interested to know which ones made it on air?
Anne from Vero Beach, Florida writes:
I'm all for Caroline becoming a senator. She's smart. She grew up around politics and politicians. This is a good woman who knows what's going on and who has devoted herself to both mothering and public service. Really, what qualifications are more important? She should not be given the seat because of her name but neither should she be rejected because of it.
Bill from New York, New York writes:
Caroline Kennedy is as politically qualified as I am to get Hillary's Senate seat. In other words, not at all. What she does have going for her is that she has a famous name, her dad is one of the most beloved Presidents, she is a big fund raiser, and she is a big Obama supporter. So, guess who's getting the seat?
Ray from Nashville, Tennessee writes:
Actually, there is no training required to be a politician, so she is as qualified as anyone else. That being said, she is too inexperienced to be appointed to that seat. If she wants to run in 2010 and the voters of New York want her there, they can elect her.
Hugh from Tracy, California writes:
Caroline Kennedy obviously has the name, but more than that she has the kind of personality which is too often lacking in Washington. She does not seek the limelight, nor the power. She has come to a crossroads in her life and feels compelled to serve like so many in her family have before her.
Mickey from Bronx, New York writes:
The best qualification for anyone running for office. She seems to care. She has always been interested in making things better.
Ryan from Indiana writes:
What qualifies Fran Drescher? What qualified Arnold to run for Governor of the biggest state in the union? How about Jesse Ventura? t least Caroline comes from a family of politicians and has a history of working around government. I'd say she's as qualified as any of the aforementioned names.