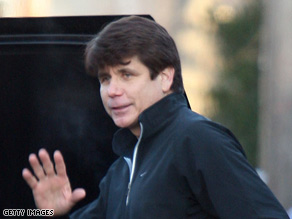 FROM CNN's Jack Cafferty:
We're now entering the second week since Illinois Governor Rod Blagojevich was arrested by FBI agents who arrived at his home to take him into custody. Released on $4,500 bail, Blagojevich is charged with practicing pay for play politics including trying to sell President-elect Obama's vacant Senate seat. The evidence against him includes numerous federal wiretaps of his home and office.
Everyone from local leaders to the President-elect have called for Blagojevich to resign but he hasn't done so or given any indication he intends to. On the contrary, with an arrogance that is breathtaking, he goes to work each day as though nothing has happened. And pretty much nothing has happened.
An Illinois House panel met today to decide whether or not to impeach the Governor. But they adjourned almost as quickly as they convened and said they'll meet again on Wednesday when the Governor's lawyer can attend.
Even if impeachment goes forward, it could take weeks or months.
Yesterday the Illinois House of Representatives delayed revoking Blagojevich's power to name a replacement for Barack Obama's Senate seat. No explanation - they just didn't do it.
Here's my question to you: Is Illinois moving quickly enough to deal with the Gov. Blagojevich scandal?
Interested to know which ones made it on air?
Robert writes:
Of course not! He's on tape. His own words ought to be enough cause to have the Illinois State Police to bar him from the Governors office.
Paul from Columbia, South Carolina writes:
There is no "swift" in justice anywhere in America anymore. The longer it lasts the more money the lawyers make. The victims no longer count.
Ron from San Francisco, California writes:
I'm sitting on a jury now and let me put it this way. You don't go slow for any reason other than to make sure you did it right. Before destroying a man, make certain, beyond any doubt, that you're doing the right thing. If I were in the Assembly, I would want to go slow for my own conscience. Imagine if you impeach him and then U.S. Attorney Patrick Fitzgerald later fails to prove his case?
Tony in Michigan writes:
Not really, but this is how these things are done. Look at how long the Scooter Libby thing took or how the U.S. Senate did nothing after Stevens was convicted. Right or wrong this is what we get for tolerating scandals and corruption on the whole from elected officials. They should suspend his power to fill the vacant Senate seat until the investigation is complete, immediately.
Gary from El Centro, California writes:
I think they did the right thing in giving him a little time to decide whether or not to resign. He's not moving, so now it's time to kick it into high gear and get him out of there.
Kevin from Chester Springs, Pennsylvania writes:
Is he still Governor? Yes? Well then it's not quick enough.
Tom from Boston, Massachusetts writes:
Illinois would be moving faster if they didn't have such a hard time just pronouncing his name.