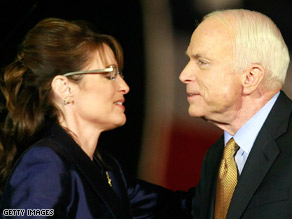 Sen. John McCain refuses to say he would support his former running mate, Alaska Governor Sarah Palin, if she runs for president in 2012.
McCain was asked directly during an interview on ABC's "This Week" if Palin can count on McCain's support. He ducked. When pressed on the question he ducked again, saying, "My corpse is still warm."
Palin was McCain's running mate, and he won't say he'll support her? This is the person he picked to be the second in command, to lead the nation should something happen to him, had he been elected President. And now he not only pauses, but won't answer whether or not he'll support her?
This was McCain's first Sunday political TV interview since he lost the election. He insists Palin helped his campaign and continues to publicly state his appreciation to the entire Palin family.
Maybe McCain is finally coming to terms with the true impact she had on his campaign. Toward the end his name didn't even appear at some of her rallies.
Barack Obama hasn't even been sworn in yet and polls have shown Republicans want Palin in 2012.
Here's my question to you: What's with Sen. John McCain unwilling to say he'll support his former running mate?
Interested to know which ones made it on air?
Dave from Orlando, Florida writes:
It's about the smartest thing he's done since he became a candidate a few years ago.
Sherrol from Canada writes:
Funny he didn't have a problem with her when she was his running mate stirring up derision and putting her stamp on polarization. Again, it says a lot about the man who wanted to be President, a man who goes where the wind blows, who would do anything to get what he wants.
Alex writes:
Jack, Sarah Palin damaged McCain's chances of winning and as a result, McCain wants to return the favor by damaging Palin's chances of winning the Presidency in 2012.
Jeremiah from Virginia writes:
I think he is still upset about not winning the Presidency. He went "all in" when he chose Palin to be his VP in an attempt to capitalize on disappointed Hillary supporters, and ended up losing his shirt.
Susan from Tuscaloosa, Alabama writes:
McShame was not above foisting Daisy Mae Mooseburger off on the rest of us to solidify the right wing nut GOP base. I guess now that he knows he'll never be President no matter how much of his soul he sells out, he's back to putting country ahead of expediency. Personally, I'd like to see Trailer Park Barbie as the next Republican nominee. It'd make 2012 a cakewalk for Obama's re-election.
Barbara from Massachusetts writes:
This is as plain as the nose on your face. She's not qualified, period. He does not need her now or ever again.
David from Texas writes:
Jack, Jack, JACK! Why dost thou persist in perpetuating the Palin Anomaly? Please just let it go. Just let her fade back into the six months of obscure darkness from which she came.