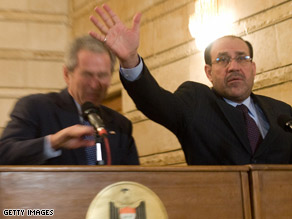 Like father like son. Just as President Bush's father will forever be remembered for throwing up on the Prime Minister of Japan at a state dinner in Tokyo, so will this weekend's video of our beloved President follow him for the rest of his days.
An Iraqi reporter threw his shoes at President Bush yesterday while he was holding a press conference in Iraqi with Prime Minister Nuri al-Maliki. It was a deliberate insult directed at President Bush. For Muslims, sitting with the soles of your shoes facing someone or hurling them at someone is a sign of contempt.
The reporter, who works for an Egyptian based television network, yelled "This is a farewell... you dog!" in Arabic. He was put in jail where he remains while Iraqi officials decide whether or not he'll face charges for assaulting an official.
As for President Bush, he made light of it and announced to reporters that the shoes were a size 10.
Questions have been raised about the seemingly delayed Secret Service response and why the man was able to throw his second shoe after throwing the first, but President Bush apparently waved off Secret Service officers at first.
Thousands of Iraqis rallied in support of the reporter's actions. Some said he shouldn't have thrown his shoes at President Bush in the presence of the Iraqi prime minister.
Here's my question to you: What does it say about our image when a foreign reporter throws his shoes at President Bush?
Interested to know which ones made it on air?