FROM CNN's Jack Cafferty:
There's a deal, at least, in principle, for a $14 billion auto industry bailout with strings attached.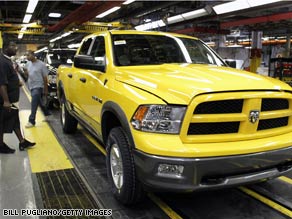 The Big 3 have three months to restructure under the watchful eyes, presumably, of a government "car czar." So that's it… a few billion dollars and government interference and Detroit will be just fine, right?
This car czar, to be appointed by the President, will write the guidelines for the $14 billion loans. The appointee will also set the terms for the loans and oversee the restructuring of the auto makers who take the money. There will supposedly be a report to Congress every 15 days.
In short, this person will have extraordinary power.
The deal is a short-term solution that is supposed to give GM and Chrysler enough cash to avoid filing for bankruptcy, at least until President-elect Barack Obama takes over and can negotiate a long-term solution. Ford apparently has enough cash on hand and won't need a loan, at least not yet.
If the government does as good a job with this as it's done with overseeing the $700 billion bailout, well… you get the idea.
Some are calling the arrangement "Bankruptcy Light"... saying it avoids the dangers of bankruptcy that scare consumers away from buying products, in this case cars.
Here's my question to you: Is a government "Car Czar" the answer to Detroit's problems?
Interested to know which ones made it on air?
Nancy from Grand Ledge, Michigan writes:
The government is rarely the answer to a problem. More often, they are the cause of the problem. If our country provided health care like other civilized countries do, then our carmakers would be a lot more competitive. A car czar sounds like too much power given to one person.
Werner writes:
For those of us living at ground zero of the economic terrorism, the large GM complex in Lordstown, Ohio, this is a matter of life or death for our entire community. Republican Senators who refuse to release the $14 billion loan should be charged with treason to America. After all, it was a Republican President (Lincoln) who once said that "all which harms labor is treason to America."
John from Alabama writes:
Jack: Someone needs to oversee how the American Auto Industry spends the money they receive from the federal government. We are loaning this money and a repay plan with interest should be part of the deal. These loans should be made very public and Congress and the new President should keep their feet to the fire. Car Czar might not be a bad idea.
Jenna from Roseville, California writes:
Did the drug czar take care of America's drug problems?
Don writes:
How about Bob Barr? I like it: Car Czar Bob Barr. The reality is, we would be better off with Rosanne Barr.
George writes:
Hold your fire. Car czar? Yes, or at least maybe, if it's a retired bankruptcy judge. Nobody else. Then, in March, Toyota buys GM and we get our money back.
Billy from New Orleans, Louisiana writes:
It is if it helps bail out the Detroit Lions.