FROM CNN's Jack Cafferty:
There's a deal, at least, in principle, for a $14 billion auto industry bailout with strings attached.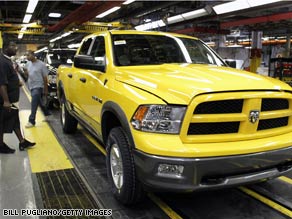 The Big 3 have three months to restructure under the watchful eyes, presumably, of a government "car czar." So that's it… a few billion dollars and government interference and Detroit will be just fine, right?
This car czar, to be appointed by the President, will write the guidelines for the $14 billion loans. The appointee will also set the terms for the loans and oversee the restructuring of the auto makers who take the money. There will supposedly be a report to Congress every 15 days.
In short, this person will have extraordinary power.
The deal is a short-term solution that is supposed to give GM and Chrysler enough cash to avoid filing for bankruptcy, at least until President-elect Barack Obama takes over and can negotiate a long-term solution. Ford apparently has enough cash on hand and won't need a loan, at least not yet.
If the government does as good a job with this as it's done with overseeing the $700 billion bailout, well… you get the idea.
Some are calling the arrangement "Bankruptcy Light"... saying it avoids the dangers of bankruptcy that scare consumers away from buying products, in this case cars.
Here's my question to you: Is a government "Car Czar" the answer to Detroit's problems?
Interested to know which ones made it on air?