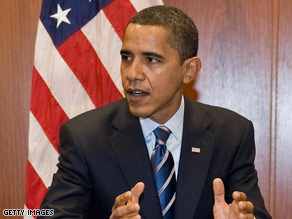 FROM CNN's Jack Cafferty:
According to a new CNN/Opinion Research Poll, 79-percent of Americans approve of the way President-elect Barack Obama is handling his transition to the White House. And those are pretty good numbers, 14-percentage points higher than President-elect George W. Bush received and 17-percentage points higher than President-elect Bill Clinton.
Some are voicing concerns about Barack Obama though, many of whom campaigned for "change" alongside him, but feel they've ended up with something quite different. Specifically, some Liberals are not happy with his cabinet appointments from the political center as well as his change of mind on things like rolling back the Bush tax cuts, taking on big oil and hedging plans to pull out of Iraq.
In Sunday's Washington Post, David Corn, Washington Bureau Chief of the liberal non-profit magazine Mother Jones, said: "Sure, Obama's appointments do represent change - that is, change from the widely unpopular Bush-Cheney status quo. But do these appointments amount to the kind of change that Progressives, who were an essential part of Obama's political base during the campaign, can really believe in?"
Here's my question to you: Are Liberals right to be upset with President-elect Obama's cabinet appointments and tax cut plans?
Interested to know which ones made it on air?
Ray from Nashville, Tennessee writes:
In almost every recent election, the winner has moved away from his base and to the center of the electorate to win. Obama did the same. The liberals saw it then and now they want to act disappointed? When will the fringe elements of both parties realize that this country is a centrist country and is no longer dominated by conservatives and will not be dominated by liberals?
Dan from Bluefield, West Virginia writes:
If Obama turns out to be a closet Republican like Clinton was, we Democratic voters will vote out so many Democrats in the 2010 election that Obama will feel like he's been neutered. He can become the first eunuch President of he forgets his base.
Robert from New York, New York writes:
I am a liberal Democrat and am absolutely thrilled at Obama's pragmatism and desire to bring this country together. When you elect an adult to the Presidency don't be surprised that he acts like an adult. May I remind my fellow liberals who are complaining that I am really tired of losing elections and that we elected Barack Obama, not Dennis Kucinich.
Michael from Baltimore, Maryland writes:
If liberals were looking at Barack Obama through the rose colored glasses of his rhetoric, then it's understandable that they would be disappointed. Obama is a master of the art of ambiguity and many people read into his statements what they wished to hear. Now that he's named a cabinet largely full of Clintonites, it's harder to project the sorts of policies that progressives hold dear onto his presidency.
Bert from Philadelphia, Pennsylvania writes:
The folks on the far right live in a la-la land of god, guns and libertarian values. The folks on the far left live in a la-la land of populist equality, the good of human nature & socialist values. What neither of them understand is that over 90% of America is neither idealistic nor demagogues - we're pragmatists who just want to make a fair living, enjoy our lives and make a better place for our children.