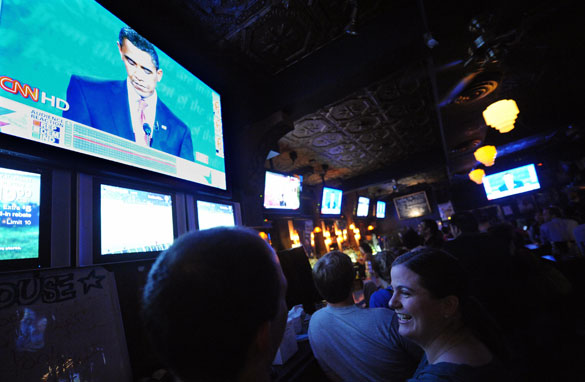 (PHOTO CREDIT: GETTY IMAGES)
FROM CNN's Jack Cafferty:
President-elect Barack Obama's inauguration is going to be a huge celebration bringing millions of people to Washington D.C. to party.
In order to literally keep the party going all night long, the city council passed emergency legislation this week allowing bars, night clubs and restaurants to stay open around the clock from January 17th until January 21st.
People could disagree about whether this is a real good idea. Yesterday, the leader of the Washington D.C. police union told the Washington Post he's worried that police resources could be insufficient during Inauguration weekend because of extended hours for clubs, bars and restaurants.
He said the officers in the seven precincts that serve the district will be spread thin and the amount of manpower needed for these extended bar hours is unknown. What is known, or can be reasonably assumed, is that if between three and five million people descend on Washington for the inauguration and the bars are open around the clock there could be problems.
Here's my question to you: Is it a good idea to keep the bars in Washington D.C. open 24 hours a day for four days during inauguration week?
Interested to know which ones made it on air?

David from Janesville, Wisconsin writes:
It might keep the alcohol sector from needing a bail-out and 96 hours of binge drinking for large crowds always ends well.
Frank from Canada writes:
Speaking from experience, when I was a habitual drunk, I can tell you for certain that closing a bar will not stop anyone from getting drunk if they are so inclined. Once we are grown ups we all have the choice whether we are going to act grown up or not. People who think closing bars will keep people from drinking alcohol are likely the same ones who think teaching teens abstinence will stop them from having sex.
Ken writes:
Oh geez. Please let us party, it's been a LONG election!!
Lucy from Massachusetts writes:
Close the bars on time. Even in New Orleans, on Mardi Gras night when the clock strikes 12am the party is over, bars which usually stay open until 4am close, and everybody gets off of the streets.
Dan from Washington, DC writes:
I thank all the people who don't live in DC for their concern, but letting people go home at their own pace, rather than everyone at 2am, will ease congestion, limit drunken conflicts and help the crush on DC's arcane taxi infrastructure.
Jason from Canton, Pennsylvania writes:
With the last eight years and the current state of the country, I think it is a shame it isn't country wide.
Buster from Poughkeepsie, New York writes:
Road Trip! Damn Jack, my New Year's resolution was going to be to knock off the 96 hour drinking binges. Oh well, next year. Hey, if you or Wolf aren't too busy, I'll see you at the Capitol Lounge bar. I'm buying.