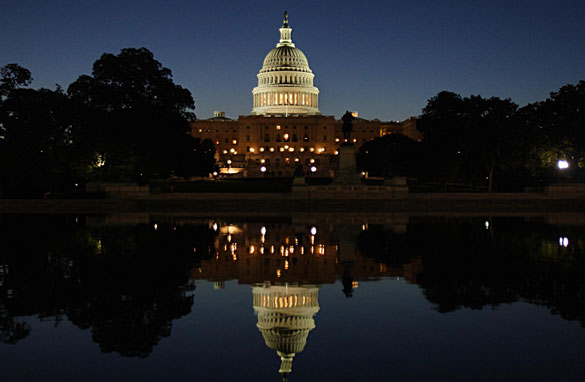 (PHOTO CREDIT: GETTY IMAGES)
FROM CNN's Jack Cafferty:
A run-off is underway today in the U.S. Senate race in Georgia between Republican incumbent Saxby Chambliss and Democratic challenger Jim Martin. Poll watchers say the race will come down to voter turnout which is probably why Alaska governor and former Vice Presidential candidate Sarah Palin flew down to campaign for Chambliss yesterday. That and to get her picture taken some more. She apparently hasn't lost her touch. She drew huge crowds.
The Georgia race is one of two unresolved Senate races. Democrats need to win both to get a filibuster-proof 60-seat majority. The other undecided race is in Minnesota where a recount is underway between Republican Senator Norm Coleman and Democrat Al Franken. Don't hold your breath for that one. The recount is expected to take weeks.
If the Democrats manage to win both races, they will have the trifecta: A filibuster-proof majority in the Senate, a commanding majority in the House, and of course, the White House.
Here's my question to you: How important is a 60-seat Senate majority for the Democrats?
Interested to know which ones made it on air?
Billy from Las Vegas, Nevada writes:
I really think it's overblown because there are so called "Democrats" like Joe Lieberman that will vote against Obama on many foreign policy issues while Republican moderates like Susan Collins, Olympia Snowe and Arlen Specter just may side with him on many domestic programs. Except for die hard ultra right wingers, like many of the southern state Republican senators, I think most will vote for what is best for their state and the country.
Ann from South Carolina writes:
My understanding of Obama's campaign rhetoric was that he would seek consensus. He said we were not blue states and red states, but the United States. That being the case, does the Democratic party need the 60 seat majority? Ideally, consensus would mean that the opposing point of view would be taken into account and included in any legislation. The operative word, of course, is ideally.
N. S. writes:
Without the majority the Republicans will do whatever they can to stop any plan Obama and the Democrats have to help the country just because that is what they do best. They have no intention of letting Obama be successful so they can use it against him and the democrats in the next election.
Philip from New Jersey writes:
Jack, it's not really that important because there will always be somebody willing to vote your way if the price is right. Ask Lieberman.
Joy from Orlando, Florida writes:
Obviously not important enough for Obama to get to Georgia and campaign for Jim Martin.
Ralph from Corpus Christi, Texas writes:
Doesn't matter how many seats if they don't get off them and get some work done.