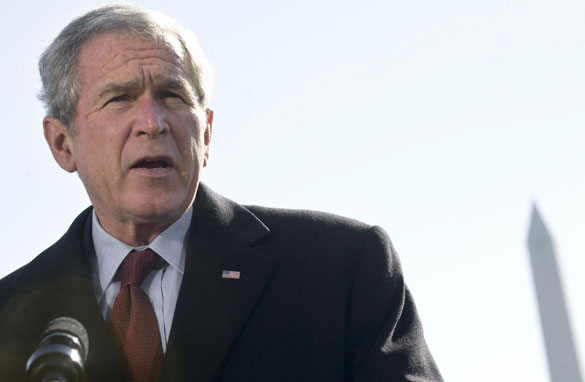 (PHOTO CREDIT: GETTY IMAGES)
FROM CNN's Jack Cafferty:
More than 2,000 convicts are asking President George W. Bush for a pardon or a commutation of their prison sentences before he leaves office next month. Among them, junk bond king Michael Milken, media mogul Conrad Black and American-born Taliban soldier John Walker Lindh. They've all applied to the Justice Department for this free pass of forgiveness.
Last week, the president issued 14 pardons and commuted two prison sentences, all for so-called "small time criminals." During his eight years in office, he's granted a total of 171 pardons and has commuted eight sentences. A president has complete freedom to pardon anyone he wishes, and he doesn't have to justify his decisions or explain himself to anyone.
For example, President Bush could also excuse people who have not been charged with any crimes in order to protect them in the future. People like former Attorney General Alberto Gonzales and baseball pitcher Roger Clemens.
The White House has declined to comment about future pardons, but some people close to the president say they doubt he would take such action. He did, however, commute Lewis "Scooter" Libby's prison sentence. Libby was the only administration official convicted in connection with the Valerie Plame CIA leak scandal.
So far President Bush has granted fewer than half the pardons Bill Clinton and Ronald Reagan did.
Here's my question to you: Are presidential pardons a good idea?
Interested to know which ones made it on air?

Jeremy writes:
If used as they were intended, a check against potential injustices committed by an imperfect judiciary, then yes, pardons are a good idea. However, if they are used as they have been for the past few decades, a way to give your friends a "get out of jail free" card, then no, they aren't a good idea.
Brian writes:
Pardons have their place, but there should be more checks and balances for them so that they cannot be abused. When you effectively have a criminal enterprise running the White House, they can be a huge problem. Perhaps one limit could be that you cannot pardon yourself or anyone who has ever worked under you.
Annie from Atlanta, Georgia writes:
Absolutely not, especially before the indictments come down, which may be the case this go around. And since I'm still hopeful Bush faces charges, they should not be able to pardon themselves.
Pat from New York writes:
No pardons! You have done the crime, now you do the time.
Michael writes:
It makes a mockery of the judicial system. Why waste taxpayers' money trying any friend of the president? Did anyone think "Scooter" would serve time? Presidential pardons should be stopped.
Terry from Ontario, Canada writes:
Presidential pardons sure. But Congress should have veto power.
Julie from Lansing, Michigan writes:
I keep waiting for "Dubya" to pardon O.J. Simpson. Why not one more monumental screw up as he leaves office to sum up his entire presidency?