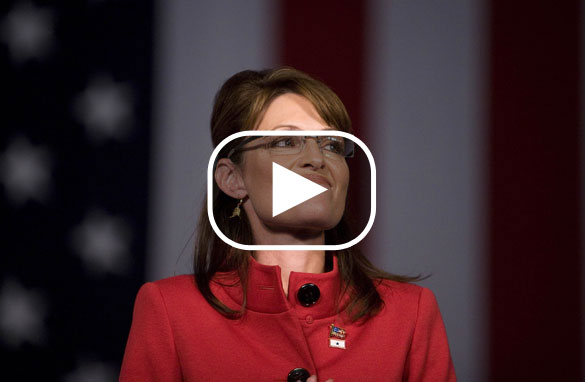 Click the play button to see what Jack and our viewers had to say. (PHOTO CREDIT: GETTY IMAGES)
FROM CNN's Jack Cafferty:
It may feel like a long ways away, but Republicans are already looking ahead to the 2012 presidential election.
According to a new Gallup Poll, Republicans and Republican-leaning Independents most would like to see Sarah Palin run for president in 2012. That's right…Sarah "I read all the newspapers," Palin. Former mayor of Wasilla, first-term governor of Alaska and hockey mom. Her interviews with Katie Couric are the stuff of legend. After she and McCain got their clocks cleaned, Governor Palin couldn't get enough of the TV cameras. They were in her kitchen, her office, virtually every corner of her life. She is now reportedly being wooed to write a book-that would be interesting-or maybe do a TV show.
Watch: Cafferty: Palin in 2012?
Republicans also like Mitt Romney and Mike Huckabee as possible candidates for 2012. Palin, Romney and Huckabee- in that order– got the highest scores among 10 possible Republican candidates for president.
Other possibilities like Rudy Giuliani, Newt Gingrich, Bobby Jindal and Charlie Crist didn't even get the support of half the Republicans polled.
Here's my question to you: What are the Republicans' chances in 2012 if Sarah Palin is their first choice for president?
Interested to know which ones made it on air?