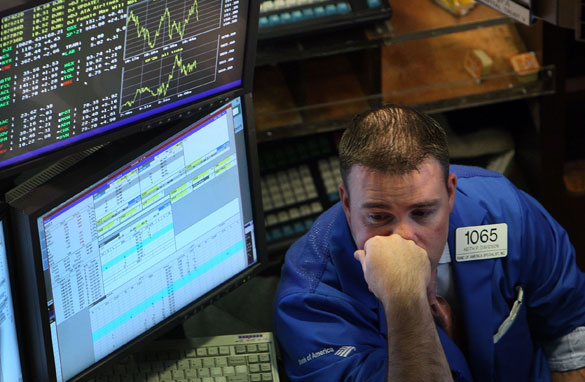 (PHOTO CREDIT: GETTY IMAGES)
FROM CNN's Jack Cafferty:
A top economist at the IMF, the international monetary fund, told a Swiss newspaper this weekend the worst of the financial crisis is still in front of us. Olivier Blanchard went on to say things won't start to get better until 2010 or later.
These comments came before the government extended the late night lifeline to Citigroup. The president also left the door open for aid to other banks and financial institutions considered too big to fail if they find themselves in the same spot.
But are bailouts and loans, ones taxpayers are on the hook for , really the answer? We are in the midst of the worst financial crisis since the Great Depression. About $23 trillion, or 38 percent, of the value of the world's companies has been wiped out. Three of the biggest Wall Street firms have been brought down. Investors, home owners, and job seekers are all suffering.
Americans have high hopes for a new president and his administration this January. But even President-elect Obama said today, "The economy is likely to get worse before it gets better."
Here's my question to you: Do you believe the worst of the financial crisis lies ahead?
Interested to know which ones made it on air?

Carol from Maryland writes:
Yes, but the good news is that over time things have a way of turning around. Maybe the cycle can be broken, especially with new leadership.
Ken from Pinon Hills, California writes:
Jack, there are no new jobs in sight. Every economic downturn since World War II recovered because many good paying jobs were created by new technology, a new product, or a new industry. At the moment, there appears none of those opportunities are in sight. Without coming technology, products, or industry, our economic future becomes predictable, and the American lifestyle as we know it, will only be a memory.
Paul writes:
No, the worst is over. The air has been let out. Thank God we didn't burst. Real values are returning to the market and hopefully society. We're taking our first steps down the only path out of this "recession", an industrial-scale green tech revolution. This will be remembered as "The Great Correction" before a sustainable economic boom that will benefit everyone on Earth.
Tom from New Hope, Minnesota writes:
Of course, the worst is ahead of us. A year ago the government told us they had their arms around the housing foreclosure crisis. It turns out they didn't have a clue how big the problem was. The government is always slow to recognize the problems we face and slow to take the proper corrective action.
Joan from North Carolina writes:
Unfortunately, I do believe the worst is ahead of us. The full effects of deregulation will hit us with a vengeance. We seem to be acquiring a great new financial team but they have a lot of years of corporate socialism to overcome. Let's hope.
Steve from Huntington Beach, California writes:
The worst is behind us. Houses are becoming more affordable, Obama has a plan to create millions of jobs and the markets appear to be recovering. Let's keep our fingers crossed.