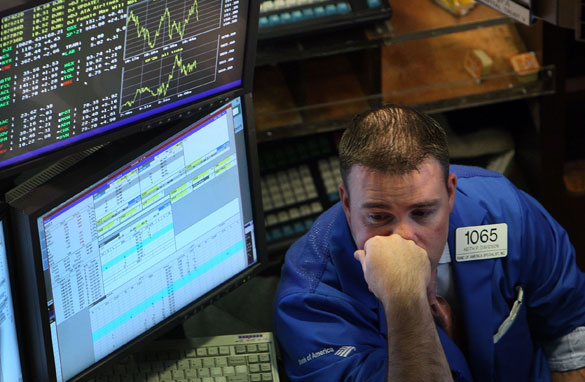 (PHOTO CREDIT: GETTY IMAGES)
FROM CNN's Jack Cafferty:
A top economist at the IMF, the international monetary fund, told a Swiss newspaper this weekend the worst of the financial crisis is still in front of us. Olivier Blanchard went on to say things won't start to get better until 2010 or later.
These comments came before the government extended the late night lifeline to Citigroup. The president also left the door open for aid to other banks and financial institutions considered too big to fail if they find themselves in the same spot.
But are bailouts and loans, ones taxpayers are on the hook for , really the answer? We are in the midst of the worst financial crisis since the Great Depression. About $23 trillion, or 38 percent, of the value of the world's companies has been wiped out. Three of the biggest Wall Street firms have been brought down. Investors, home owners, and job seekers are all suffering.
Americans have high hopes for a new president and his administration this January. But even President-elect Obama said today, "The economy is likely to get worse before it gets better."
Here's my question to you: Do you believe the worst of the financial crisis lies ahead?
Interested to know which ones made it on air?