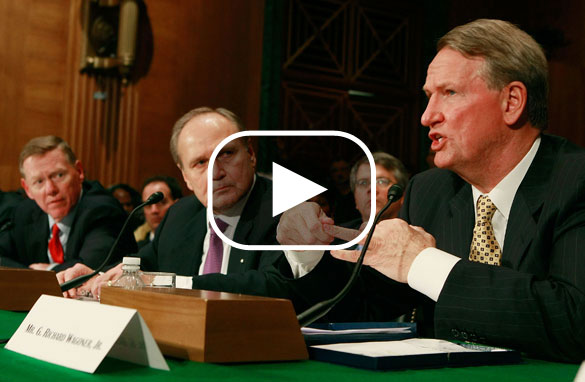 Click the play button to see what Jack and our viewers had to say. (PHOTO CREDIT: GETTY IMAGES)
FROM CNN's Jack Cafferty:
Not now....Maybe later. That's pretty much what Congress told the Big Three U.S. automakers yesterday.
Executives from Ford, Chrysler and GM appeared on the Hill two days this week all but begging for federal aid. They said they needed a $25 billion bridge loan just to stay in business through the end of the year. Well it turns out Democratic leaders want to know exactly what they're going to do with that cash before they push through any legislation granting it.
House Speaker Nancy Pelosi said yesterday "Unless they show us the plan, we cannot show them the money."
Watch: Cafferty: Automakers get aid?
So Congress will return next month to consider this $25 billion bailout if, and only if, the companies come up with a "viable" recovery plan to present to them by December 2nd.
It's interesting that Congress all of a sudden wants detailed plans for the auto industry. Since they forked over $700 billion for the financial institutions, there has been virtually no Congressional oversight on what's been done with that money.
Here's my question to you: What should the automakers agree to do in order to secure government aid?
Interested to know which ones made it on air?
Chuck from Sheboygan, Wisconsin writes:
They should immediately agree to meet 35 mile per gallon CAFE standards within 3 years, 50 mpg within 10 years. They must agree to pay back the loans with interest. They must eliminate all corporate bonuses. Heck, I'm not getting one this year, why should they?
Charles from Lansing, Michigan writes:
First, they have to show they can market their product to the general public. These three yo-yos have shown they don't have a clue by flying into Washington, D.C. in separate corporate jets. Start with three new CEOs.
Rick from Miami, Florida writes:
Send a memo to the union that the new rate of pay to tighten a nut in an assembly line is 8 dollars an hour. It has mistakenly been set at 30 bucks per hour and above for years. They would still be allowed to keep the fortunes they have built through years of being insanely overpaid, but starting tomorrow it's over. The guy watering the flowers at the Wal-Mart Garden Center works just as long and hard, but I'm sure he does not hold out for 100 grand a year. If the delusional Union members don't like it, let them take their High School diplomas and dubious marketable skills elsewhere, and good luck.
M.J. writes:
The question should be, "Can we afford millions more on unemployment?"
Susi from Tucson, Arizona writes:
They shouldn't do anything. They should declare bankruptcy and work on building a smart industry with eco-friendly and economical vehicles. While I have sympathy for the loss of jobs, surely this didn't just happen last week. It's been coming for years, and no one has done anything to change the direction of the industry. Sorry, but tough love is the answer.
Charlie from New Mexico writes:
Given the present executive corporate culture and the unions' cost, I seriously doubt if anything will keep the "Big 3" afloat for very long. In the not-to-distant future, I fully expect my 2005 Chevy to be as much of an "orphan" as my 1937 Packard.