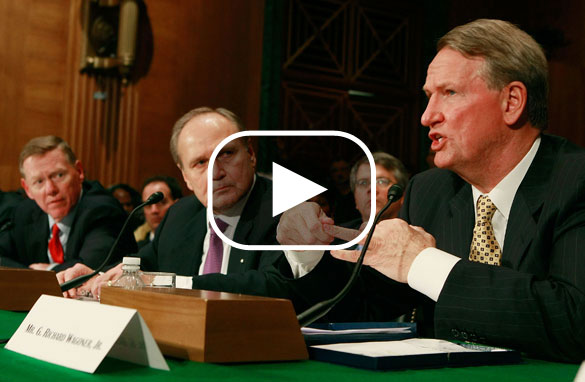 Click the play button to see what Jack and our viewers had to say. (PHOTO CREDIT: GETTY IMAGES)
FROM CNN's Jack Cafferty:
Not now....Maybe later. That's pretty much what Congress told the Big Three U.S. automakers yesterday.
Executives from Ford, Chrysler and GM appeared on the Hill two days this week all but begging for federal aid. They said they needed a $25 billion bridge loan just to stay in business through the end of the year. Well it turns out Democratic leaders want to know exactly what they're going to do with that cash before they push through any legislation granting it.
House Speaker Nancy Pelosi said yesterday "Unless they show us the plan, we cannot show them the money."
Watch: Cafferty: Automakers get aid?
So Congress will return next month to consider this $25 billion bailout if, and only if, the companies come up with a "viable" recovery plan to present to them by December 2nd.
It's interesting that Congress all of a sudden wants detailed plans for the auto industry. Since they forked over $700 billion for the financial institutions, there has been virtually no Congressional oversight on what's been done with that money.
Here's my question to you: What should the automakers agree to do in order to secure government aid?
Interested to know which ones made it on air?