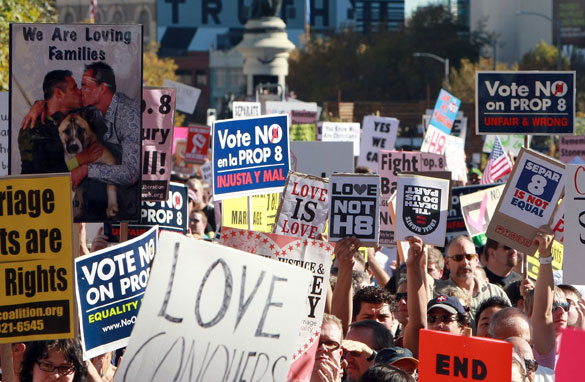 (PHOTO CREDIT: GETTY IMAGES)
FROM CNN's Jack Cafferty:
On Election Day, California voters approved Proposition 8, a constitutional amendment that overruled the state Supreme Court's decision this past May to legalize gay marriage.
Protests and petitions by gay rights groups and supporters followed in the days after.
Now the California Supreme Court has agreed to hear three legal challenges to the state's new ban.
All three cases claim Proposition 8 steps on the civil rights of a "vulnerable minority group."
While the court agreed to review the cases, it stopped short of suspending the ban.
An estimated 18,000 same-sex marriages were certified in California between the spring and Election Day and many of these couples have been left in legal limbo.
According to one gay rights group, the California Supreme Court has heard nine cases challenging ballot initiatives or legislative acts in the last century. The court eventually overturned three of the measures.
Here's my question to you: Should the California Supreme Court stay out of the recently passed ban on gay marriage?
Interested to know which ones made it on air?
Raphael from New York writes:
Yes, Jack, they should stay out. Whatever the merits of gay marriage, the people have spoken as to whether they feel they want it in their state. For those who go against the final decision, I suggest they move to a state where the people have voted in a way they agree.
Daniel from Indiana writes:
No. This is a civil rights issue. The rights of a minority are being stomped on, and this needs to be corrected. Should the U.S. Supreme Court have remained silent about Brown v. The Board of Education or Roe V. Wade? Not in the least. They intervened and set right cases of discrimination.
Kevin from Oregon writes:
The courts should interfere. The bottom line: it's discrimination. It sets a specific set of laws for a portion of the population. The courts interfered years ago when the majority voted to ban interracial marriage. The majority isn't always right.
Bill from West Virginia writes:
I have always been understanding and tolerant towards gays. I have always been supportive of civil rights for others, but gay marriage goes over the line. It is not a civil rights issue and communities should have the right as to accept it or not.
Michael from Canada writes:
The fundamental question that needs to be addressed is: Is marriage strictly a religious right, or is marriage strictly a legal entity that provides certain benefits and rights? If it is a religious right, then the courts should stay out. If marriage is to be held strictly as a legal entity, then the courts should get involved.
Mary from California writes:
Unfortunately, those that want same-sex marriage are pushing the courts to overturn what was finalized in the election. The protests are not exactly quiet. They do have the right to protest. They do not have the right to push their opinions down other people's throats who believe that marriage is between a man and woman.