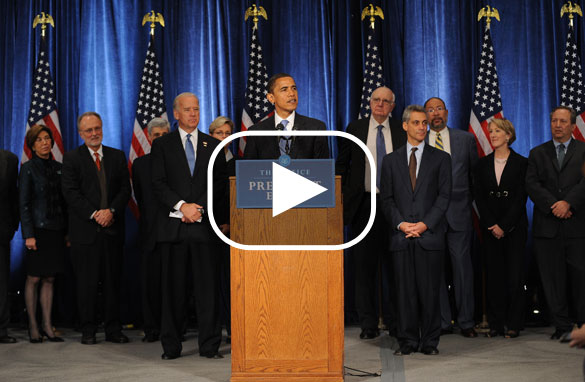 Click the play button to see what Jack and our viewers had to say. (PHOTO CREDIT: GETTY IMAGES)
FROM CNN's Jack Cafferty:
President-elect Barack Obama won the White House on a message of change. Fifty-three percent of Americans said they wanted something new and different in Washington. Well, Obama is certainly new and different, but the same cannot be said for some of his early appointments. It's like that song title, "Everything Old Is New Again."
As Obama prepares to take over, he's asking a bunch of former Clinton Administration members to come on board. John Podesta, who is overseeing the Obama transition team, is a former Clinton White House Chief of Staff. Rahm Emmanuel, who will serve as Obama's Chief of Staff, is a former Clinton aide. The president-elect's choice for Attorney General, Eric Holder, served in the Clinton administration as deputy attorney general under Janet Reno. And Peter Orszag, who has been picked to head Obama's Office of Management and Budget, worked at the Clinton White House as a special assistant to the president at the National Economic Council.
Watch: Cafferty: Former Clinton Admin?
And then, of course, there's Hillary. The former first lady and current junior senator from New York has been asked about the Secretary of State position. And if she gets the job, we get Bill back by association.
More than half of those named to Obama's transition or staff posts so far have ties to the Clinton administration
Here's my question to you: What message is Barack Obama sending by surrounding himself with so many former members of the Clinton Administration?
Interested to know which ones made it on air?
Gia from Los Angeles, California writes:
I think the primary reason that Obama is picking a lot of "Clinton-ites" is that he wants people around him with quality experience, who know what they're doing and how the system works, so that they can effectively implement his vision for change. I think it also allays the fears of those people who didn't vote for Obama because they were concerned about his lack of experience.
Shane from Montreal, Quebec writes:
It's about picking smart and able people who know how government works. I'd like to see him pick Chuck Hagel and Colin Powell also. These are very smart and moderate Republicans who can help him. Obama knows what he's doing. I'm not worried.
Eileen from Peabody, Massachusetts writes:
I don't think President-elect Obama is sending any message yet. He is surrounding himself with former Clinton staffers for now, but his list of vacant positions is still enormously long. Let's take stock when a good number of cabinet positions are filled.
Steve from Green Bay, Wisconsin writes:
He's sending the message that he is "lipstick on a pig". It may have a shiny new face, but with the appointment of Hillary as Secretary of State, and all the other appointments, the Obama Presidency will merely be "The Clintons: Part 2", which will lead to Hillary winning in 2016, which will be "Clintons: Part 3". I couldn't be more disappointed in someone I truly believed to be "change."
Steve from Hohenwald, Tennessee writes:
Well it sounds like he`s playing the safe bet. I was hoping he would be a little more daring than that. I would like to go in a brave, new direction.
George writes:
If you don't remember how well the country was doing when Bill Clinton was President, then you need a refresher course in how a government is supposed to be run instead of what the Bushies have done to it. Bill Clinton had some of the smartest people in the country in his administration, and they would be a great asset to Obama once he becomes President.