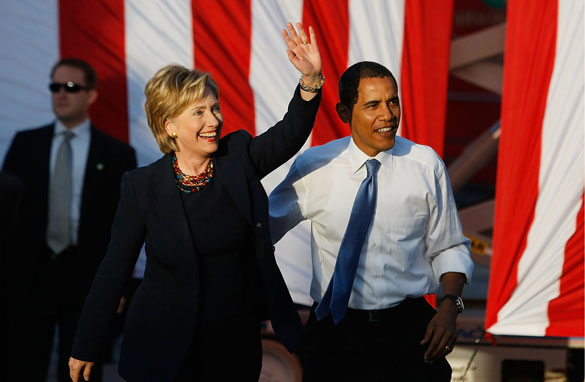 (PHOTO CREDIT: GETTY IMAGES)
FROM CNN's Jack Cafferty:
President-elect Barack Obama met with Senator Hillary Clinton last week, and since then, a lot has been made about the possibility of Obama's former rival becoming his secretary of state.
The big question this week is what sort of problems Bill Clinton could cause in the vetting process of his wife. Since he left office, President Clinton has started a new career which involves some "complicated international business dealings." He also has a global foundation with a long list of donors who may not all agree with incoming President Obama's policies.
But the Clintons have been here before. If Hillary gets the "all clear" and is offered the job, the next question is: Should she take it?
After losing the democratic presidential nomination to Barack Obama, Clinton returned to her old job as the junior senator from New York. She's very popular with her constituents and could likely remain in the senate as long as she wants to, perhaps even becoming a senate leader. But if she takes the Secretary of State job, she will tie her career to the successes and failures of the Obama administration. If Obama stumbles, she likely would have an easier time making another run for the White House from the Senate.
Here's my question to you: What is the proper role for Hillary Clinton in President Obama's administration?
Interested to know which ones made it on air?
Vera from Baltimore, Maryland writes:
From my vantage point, she shouldn't have a role. She should stay in the Senate and help get Obama's legislation passed. If she becomes secretary of state, she will need someone to actually manage the state department better than she managed her campaign.
Paula writes:
Hillary is the right choice for Secretary of State. I love the fact that Obama feels secure enough to choose people who won't just be "yes" people. I think he is smart to look to people who may not necessarily agree with him all of the time.
Mason from Tuscaloosa, Alabama writes:
Hillary Clinton would be great in Obama's cabinet. That way she can continue with her interpretation of Obama's message: "Change you can Xerox." Come on now, if he appoints her, he might as well give Dick Cheney a job. That's not change; it's more of the same.
Maria writes:
Advisor only. Bill has too many hands in foreign cookie jars for the Clintons to be objective and not a liability to Obama. She is an excellent politician, but an Achilles' heel to the Obama camp because of her husband.
Tom from Tucson, Arizona writes:
I would think Secretary of Health and Human Services would be the ideal place for her. Senator Clinton has always made healthcare one of her top issues. It may not be as sexy as the Secretary of State position, but with an annual budget of over $700 billion a year, it is certainly influential and affects millions of Americans in a very personal way.
Curt writes:
Any role she wants and he should pay off her debt. He wouldn't be where he is without her.
William from Vero Beach, Florida writes:
Getting Hill off the Hill also puts the chill on Bill. He wouldn't dare engage in international mischief if she were Secretary of State...or would he?