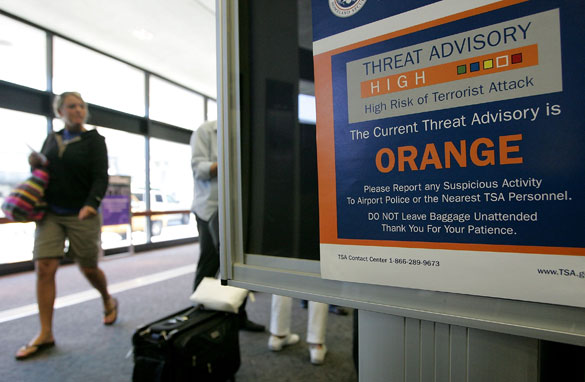 (PHOTO CREDIT: GETTY IMAGES)
FROM CNN's Jack Cafferty:
President-Elect Barack Obama has been warned of a "huge threat" from al Qaeda by intelligence leaders in the U.S. and abroad. He told 60 Minutes' Steve Kroft last night that since terrorists could try to attack the U.S. during his White House transition, putting together his national security team is a top priority.
And it should be. The presidential transition period is prime time for terrorists. In 1993, just a little more than a month after President Bill Clinton took office, there was the first attack by al Qaeda on the World Trade Center. In 2001, during President George W. Bush's first year, we had 9/11.
The director of the CIA, Michael Hayden, said last week that al Qaeda is strengthening its hub in the Pakistani mountains and building ties with militant groups in Europe and Africa.
The president-elect told 60 Minutes that stamping out al Qaeda was also atop his to-do list and capturing or killing Osama bin Laden is a critical aspect of that plan.
Here's my question to you: How concerned are you about another terrorist attack?
Interested to know which ones made it on air?

Randy from New York writes:
Another attack is always a concern. After the first World Trade Center bombing, it took almost 8 years for the next more devastating attack. Since we haven't captured the master designer of the 9/11 attacks, it's probably just a matter of time.
Don from Ottawa writes:
Not at all, Jack. The terrorists are achieving what they want without lifting a finger. We are destroying ourselves from within.
Laura writes:
Why bother to plot an attack when they can sit back and watch this country financially implode? George Bush and his crew have been the ultimate gift to al Qaeda.
Mark from Oklahoma City, Oklahoma writes:
Very concerned. I believe that we will be hit again, but only when Bin Laden can be certain that the destruction and loss of life will be much greater than that which took place on 9/11.
Pat from Lexington, Kentucky writes:
I'm concerned and aware, but not anxious or hysterical or paralyzed by the possibility or probability. I don't know what to do to help prevent an attack, and I'm certainly not going to stop everything and hold my breath waiting for it.
Lauri from Baltimore, Maryland writes:
I'm a lot less concerned now than I was on November 3rd.
Bruce from St. Paul, Minnesota writes:
I'm not worried. After all, we have to take our shoes off and surrender our shampoo at the airport. We have a partial fence separating us from Mexico. How could terrorists possibly penetrate a system like that?