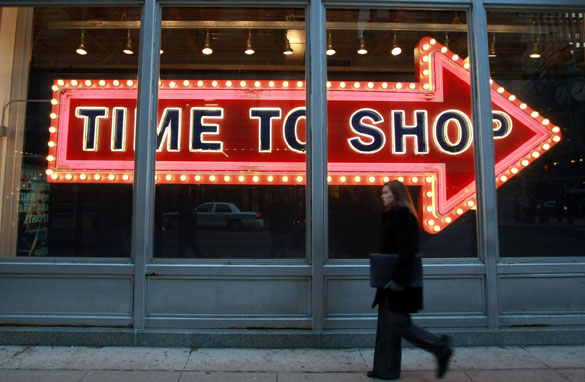 (PHOTO CREDIT: GETTY IMAGES)
FROM CNN's Jack Cafferty:
The shopping malls, department stores and discount retailers are doing all they can to let you know the holidays are almost here. This year, they really need your business. Last month, retail sales suffered the worst monthly drop on record. And the outlook isn't so bright heading into the Christmas season.
The unemployment rate is at a 14-year high of 6.5 percent, foreclosure rates have spiked across the country. Even if you're fortunate enough to still have a roof over your head and a job to pay for it, your retirement savings have probably taken a pretty hefty beating... as stocks continue their slide southward.
So spending money on holiday travel, food and gifts may a little harder to swallow this year.
There is one bright spot: gas prices are down...a lot. So you can at least drive to your relatives'. There are no guarantees what you'll find on the table or under the tree when you get there though.
Here's my question to you: In light of the deteriorating economy, how have your holiday plans changed?
Interested to know which ones made it on air?

Scott from Tucson, Arizona writes:
We've now done our first detailed budget, and tracked our spending down to the penny for the last two months to see exactly where we are. The result? In the current spreadsheet there is no column for gifts. We'll make exceptions of course, but our plans are very conservative.
M.B. from Virginia writes:
I'll be driving to visit relatives rather than flying, and spending less money per person on gifts. But as an adult, the most important thing about the holidays is to enjoy time with family, which doesn't cost a thing.
Gary from North Carolina writes:
Yes, for the first time in eight years, we can really rejoice. We have a glorious year to look forward to. And since when is happiness and giving related to the economy anyway?
Bill from Zion, Illinois writes:
I guess this year we'll hear even more than usual the lamentations about how the merchants are faring. We gauge our elections by countless polls and our Christmas season by sales receipts. Pretty sad.
Bronwyn writes:
Every year we send family members Virginia Hams, but this year due to the failing economy we will be sending Virginia Peanuts instead!
Tim from Boulder, Colorado writes:
Christmas is canceled. Bah humbug, Jack.
Garrick writes:
Jack, my plans are to go stand in front of the White House with my bills and ask Bush to bail me out.
Gary from Woodhaven, Michigan writes:
Maybe as a people we will learn what the holidays are really about, which has nothing to do with an economy.