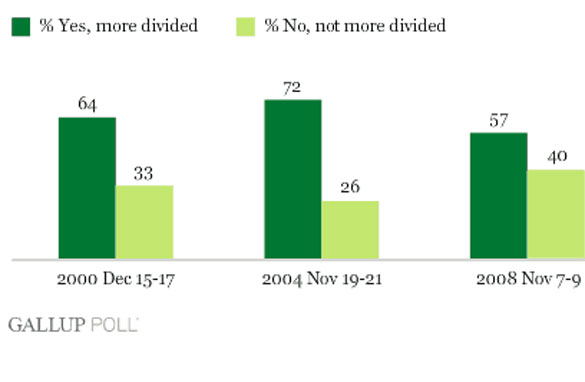 (PHOTO CREDIT: GALLUP ORGANIZATION)
FROM CNN's Jack Cafferty:
One of the longest, nastiest, most divisive presidential races this country's ever seen is now in the books. A little more than half of us are pretty pleased with the results. The rest of us? Not exactly.
But that doesn't mean we're without hope.
According to a new Gallup Poll, fewer Americans see the country as divided now as it has been after other recent presidential elections. We're still a long way from all being on the same page, but it's better. After the 2008 election, 57% say the country is more divided on major issues than in recent years. But that's down considerably from polls taken after the previous two presidential elections. In 2000, 64% said we were more divided, and in 2004, 72% said so.
A lot of Americans think Barack Obama is just what the doctor ordered. 54% of those surveyed said the Obama administration will be able to heal the divisions in the country. 44% say it will not.
Here's my question to you: What does it mean that fewer Americans see the country as divided?
Interested to know which ones made it on air?

Louis from Los Angeles, California writes:
Jack, it means that we have a new opportunity to move beyond the divisive politics of this last election. We still have a long way to go but the potential is here. We should not have to wait for another 9/11 to unite the country. The time is now.
Sandi from Chicago, Illinois writes:
I believe it is because for the most part, Americans now have hope. Despite all the bad news on the economy, I believe in the new President-elect. Not that I expect a turnaround within the first 100 days, but I do believe within his first term, we will be on the road to saying, "Yes, we are better off than we were in 2008!"
Paul from Columbia, South Carolina writes:
Give it time. Election euphoria is always replaced by disappointment.
Hugh from Vero Beach, Florida writes:
I don't know what fewer Americans you're talking about, Jack. Down here in the South, we're more divided than ever especially in respect to Obama's economic and defense visions for our country.
Joanne from Westwood, New Jersey writes:
I think the country is less divided after the election because conservatives are much more gracious than liberals. If Obama had lost, the split would be wide and deep.
Chuck from Arkansas writes:
In the past, the Republicans have been able to falsely convince Americans that our country is divided racially and ideologically. Now we are realizing that we are divided economically, and that there are far more poor or those who are just getting by, no matter what their color is, than those who are rich.