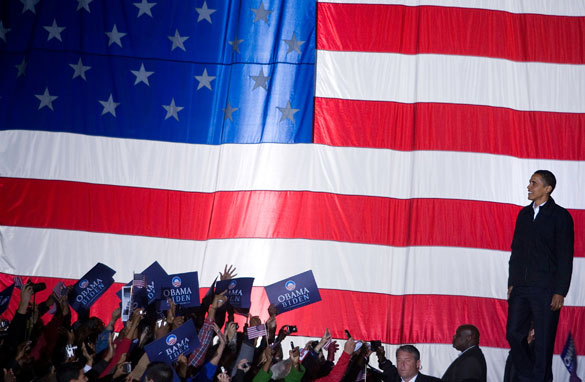 (PHOTO CREDIT: GETTY IMAGES)
FROM CNN's Jack Cafferty:
President-elect Obama has said he wants to establish a civilian security force to assist our already-taxed military. He described it as a national security corps that's as powerful and well-funded as the U.S. military, and it would take on the national security burden.
Obama made mention of this in a speech in Colorado in July. That speech has since circulated on the Internet. For some reason, the concept scares people. Republican Congressman Paul Broun from Georgia told the Associated Press, that such a move could lead to Marxism.
He said, "That's exactly what Hitler did in Nazi Germany and it's exactly what the Soviet Union did... When he's proposing to have a national security force that's answering to him, that is as strong as the U.S. military, he's showing me signs of being Marxist."
Broun also said he thinks Obama will move to ban gun ownership if he does build a national police force.
Here's my question to you: Is President-elect Obama's idea for a civilian security force a good idea?
Interested to know which ones made it on air?
Ryan from Sacramento, California writes:
A national civilian security force? "National" implies it's answerable only to the federal government, and that sounds abuse-able. Maybe Obama won't abuse it, but that doesn't mean future administrations won't. So I have to give this idea a resounding "No."
Michael from Pensacola, Florida writes:
Actually it sounds like a militia. Not a bad idea when you consider our airports, trains and ports are just as vulnerable as they were on 9/11. Add unsecured borders, drug trafficking and gangs and we have a winner. As long as checks and balances existed.
Ann from Newton, New Jersey writes:
I remember the air raid wardens during World War II. I am sure that there would be enough volunteers willing to do their duty to help with the security of our country.
Micah from Canton, Ohio writes:
Sounds like the National Guard, doesn't it? Just shows how far off track the Bush Administration got us.
John from New Jersey writes:
If the security force is meant to help shore up our open borders and exposed ports, then absolutely. The National Guard is too thin with many states sending their forces overseas. We have seen how weak our response can be to natural disasters in recent years. This force will not only add security but also a helping hand in the face of a crisis. With the proper funding, this could be very effective.
Becky from Wilson, North Carolina writes:
I don't think the security force is a good idea, and not because it may or may not be Marxist. Any funds should be used for the existing military and National Guard. Why do we need another layer of security? Let's just concentrate on making what we do have the best it can be.