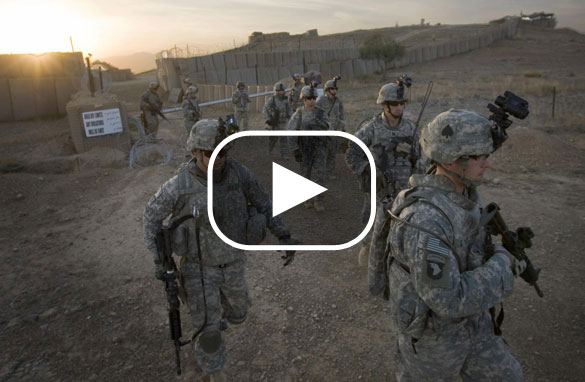 Click the play button to see what Jack and our viewers had to say. (PHOTO CREDIT: GETTY IMAGES)
FROM CNN's Jack Cafferty:
Former Defense Secretary Donald Rumsfeld, remember him? The incompetent boob a chorus of retired generals and admirals called on to resign because of his incompetence and inability to lead our military? He finally quit in November of 2006.
Well guess what? According to a report in the New York Times, Secretary Rumsfeld authorized a classified order back in 2004 that allows the U.S. military to carry out broad and secret attacks against al Qaeda even if those attacks occur inside countries we're not at war with. In other words, these controversial strikes of late inside Syria and Pakistan are just fine according to Rumsfeld, whether the governments or people of those countries like us waging war inside their borders or not.
Watch: Cafferty: Attack al Qaeda?
More than a half-dozen current and former military and security officials confirmed this to the New York Times. The measure gives the U.S. military the power to attack al Qaeda anywhere in the world.
Most of these attacks, when they occur, are carried out by U.S. Special Forces in conjunction with the C.I.A.
Here's my question to you: Should the U.S. be attacking al Qaeda in foreign countries without permission?
Interested to know which ones made it on air?

Braden writes:
Absolutely! If we sit on our heels and ask for permission only one thing is going to happen, we will miss the opportunity to act against these people. Either al Qaeda is there without that government's knowledge, or they are there with the approval of that government. Either way, that government cannot legitimately complain about us going in and doing this without condoning terrorist actions.
Greg from Pennsylvania writes:
I am a hawk when it comes to this, but as much as I would like to say yes, I can't. Would the U.S. tolerate someone violating our sovereignty to attack a terrorist? Is it OK for Russia to strike Pennsylvania if some Chechnyan terrorist was operating there? I know the U.S. wouldn't let terrorists operate here, but one country's terrorist is another country's freedom fighter.
Harold from Anchorage, Alaska writes:
Only a few high-value targets, such as Osama bin Laden, would be worth the political cost of such operations.
Ed from Woodbridge, Virginia writes:
Anywhere those dirt bags hide!
John from Los Angeles, California writes:
If the Special Forces can kill terrorists, they should do so, wherever they happen to be. Far better that than using conventional forces and killing hundreds or thousands of innocent people as collateral damage, and far better than another attack on America.
Richard writes:
You are a stupid liberal for even asking such a question. Obviously the only idiots who tie our hands like you are a bunch of terrorist appeasers. Next time we get attacked, you should be fired.
Kylis writes:
I don't remember 'them' asking for permission for 9/11. Did the Japanese ask for permission to bomb Pearl Harbor?