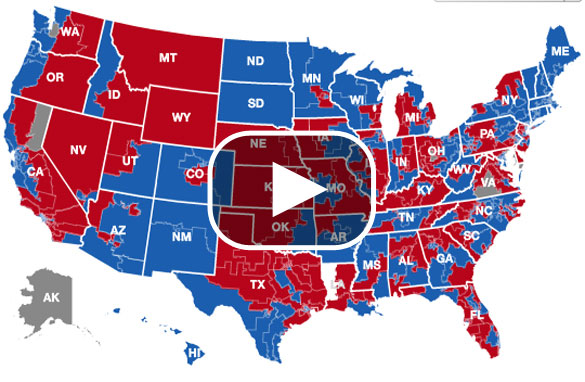 Click the play button to see what Jack and our viewers had to say. (PHOTO CREDIT: CNN)
FROM CNN's Jack Cafferty:
After getting the wind knocked out of them in 2006 and 2008, Republicans are a party in disarray...
From putting a woman on the presidential ticket who reportedly can't name the members of the North American Free Trade Agreement and thinks Africa is a country rather than a continent, to a presidential candidate who declared: "the fundamentals of our economy are strong" at the same moment the worst financial crisis in almost a century was descending on the U.S. economy, they appear to have lost their touch. And if they're pinning their presidential hopes on Sarah Palin for 2012, well, good luck with that.
Watch: Cafferty: GOP popularity?
Bush damaged the brand but John McCain and Sarah Palin didn't do much to restore it.
Republicans also enter the new year with declining minorities in both houses of Congress.
Here's my question to you: What does the Republican Party have to do to get back in the game?
Interested to know which ones made it on air?
Scott from Wichita, Kansas writes:
Give it 10-15 years. It's been back and forth since the two parties came about. By that time, all the young voters who put the Democrats into power will have jobs, and want to keep the money they earn, so they'll shift views on a lot of things.
Stacy from Virginia writes:
Jack, they need to just get rid of the virus that is the Christian Coalition. Their intolerance disguised as a social agenda continues to drive potential voters away in droves. They need to focus on issues such as balanced budgets, the national debt, homeland security, and a host of economic issues.
Billy from Las Vegas, Nevada writes:
Republican Michelle Laxalt said it all on Larry King Live on Thursday. Her party needs to get back to their true conservative principles of fiscal responsibility and small government and stop trying to be the "We know what's good for you" and the so-called "social values" party. It's the only way they will get the younger voters and minorities in the future.
Lorna from New York writes:
They need to go back to their roots. The Republican Party that I remember was filled with intelligent people. I don't know what happened. They let anybody in these days.
Charles from Gainesville, Florida writes:
They have to stop relying on the white racist vote to get elected and promote a platform of inclusion instead of the hate-mongering politics they've gotten so good at over the years.
Michael from Pensacola, Florida writes:
Use that new found DNA technology to resurrect the fiscal conservatives of old and get away from the big business, bible-thumping, war-mongering wannabes that have hijacked the party.