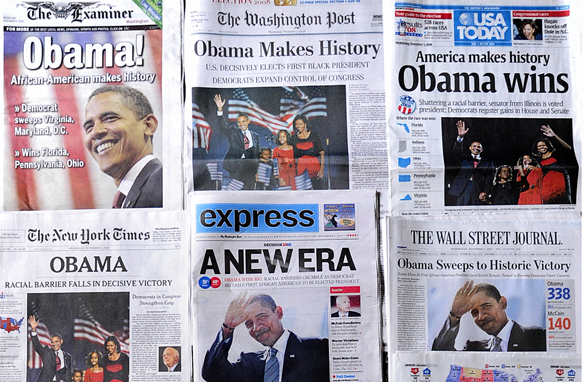 (PHOTO CREDIT: GETTY IMAGES)
FROM CNN's Jack Cafferty:
Barack Obama made history Tuesday night, after voters came out in record numbers to support him and many voting for the first time.
It was a stunning rise to the presidency for a 47 year-old freshman senator, let alone one who is African-American.
Along the way, he beat out a handful of familiar Washington names for the top spot on the Democratic ticket...Former Vice Presidential candidate John Edwards, Senator Chris Dodd, Senator Joe Biden who eventually became his running mate and, of course, most notably, Senator Hillary Clinton.
Her star power and powerful ties weren't enough to beat out Obama, but was there something more at play?
Women, who make up more than half the U.S. population, earned the right to vote in 1920. And while African-Americans were granted that right about fifty years earlier, for about a hundred years, voting was easier said than done for blacks. So what does Obama's victory say about us as voters?
Here's my question to you: What does it mean that the U.S. elected an African-American president before it elected a woman?
Interested to know which ones made it on air?
Patrick from Maryland writes:
Jack, the only thing it means is that Barack Obama ran a better campaign than Hillary Clinton and John McCain. I don't think race or gender had as much to do with it as the message of "Change." Americans are hungry for a new direction after 8 years of insanity under possibly the worst Administration in our history.
Cody from Phoenix, Arizona writes:
Someone had to get there first. If a woman did it, the U.S. is racist. When Obama did it, the country is sexist. Glad this appears to be a win- win situation.
Val from South Carolina writes:
Jack, as an African-American and a woman I can honestly say that it was the candidate that determined who got my vote. When I first learned that Hillary was running, she automatically got my support. Then I decided to explore my options and went to the Obama rally in Columbia, South Carolina in December of last year. After listening to him and witnessing how he carried himself, I had to change my mind.
Hylan from Chicago, Illinois writes:
It doesn't mean a thing.
Jason from Orlando, Florida writes:
Wasn't an African-American man able to vote in 1870, which is before women could vote in 1920? Maybe that is just how the country changes. Most importantly though Obama has the ability to heal and unify people, and no other candidate exemplified that quality.
Ginger from West Melbourne, Florida writes:
It shows how very afraid men really are, doesn't it? Be afraid then. Be very afraid. One day, a woman will show how it should have been done all along.
Steve from Allen, Texas writes:
It means that we want to elect someone that does not spend so much money on their clothes.