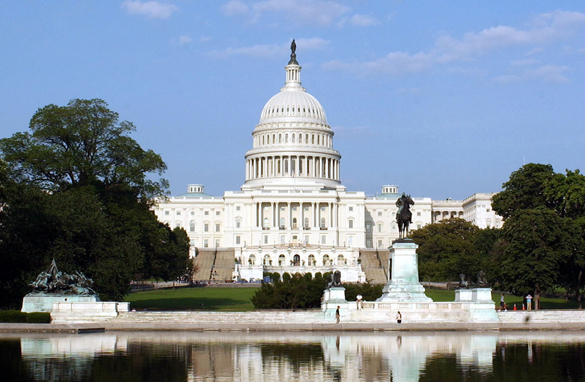 (PHOTO CREDIT: GETTY IMAGES)
FROM CNN's Jack Cafferty:
For President Barack Obama and the new Congress, January brings the message, "OK, you made the team, now it's time to find out if you can really play." The list of problems confronting our country is long, the list of solutions not so.
Obama will enjoy Democratic majorities in both houses of Congress, so it should be possible to get things done more quickly. But where to start? There are two wars going on and a global economic crisis that could get worse. The terrorists are still around. Our health care system is in disarray. Our reputation overseas is on life support.
Oh, and don't forget taxes, a lack of any coherent energy policy and illegal immigration. No question about it, it's not quite the same country George Bush inherited from Bill Clinton.
Did I mention $10 trillion of debt and budget deficits projected north of $400 billion for next year?
Here's my question to you: What is priority one for the new president and congress?
Interested to know which ones made it on air?
Michael from Greenfield, Wisconsin writes:
The laundry list of issues are all inter-connected. The question is: How well will President Obama and his team construct an overall policy to address all of the issues simultaneously? This will take a little time, but if I must offer one priority, then it is Iraq and the $10 billion a month that we waste there, not to mention the wear on tear on our troops of which one is my son.
Ellen from Casa Grande, Arizona writes:
Our "energy solutions" should be put into place as soon as is possible, including all tax incentives and special federal loans that will put us on the road to energy independence quickly and without partisan politics. This will also help to mitigate our job loss problems.
Larissa from Galesburg, Illinois writes:
Place strict regulation on the Federal Reserve and financial institutions. Check the power of those who speculate in the market.
Sandra writes:
It's the economy, stupid.
Brian from Trinidad writes:
Priority one is to start delivering on those election promises. There are no excuses anymore, with clear majorities in both the House and Senate and the president's overwhelming mandate from the people.
Susan from Tuscaloosa, Alabama writes:
End the war in Iraq and bring our sons, our daughters, and our money home!
M.W. from Arizona writes:
Number 1: He must place a freeze on the Home Mortgage foreclosures while he puts his fiscal mandate together. He signed the Bill to pass the $700-billion-dollar bailout for Wall Street, and he must now extend that breathing room to the actual people who are footing the Bill.