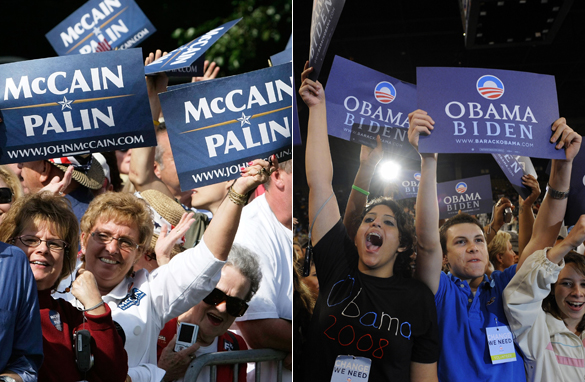 With only one more day until the election, how will you handle election-withdrawal Wednesday? (PHOTO CREDIT: GETTY IMAGES)
FROM CNN's Jack Cafferty:
So what are your plans for Wednesday? A twelve-step program? Maybe a little one-on-one counseling? You know you're probably going to need some help. We all will. There won't be anymore election to fixate on.
What a ride it's been– Historic and interesting. Historic because of Barack Obama and Hillary Clinton, and just when it started to get a little boring, Sarah Palin rode out of Alaska and energized the whole thing all over again. Interesting because we have ourselves quite a mess here: The economy, wars, etc. You know it all by now. Those problems awakened the American electorate like never before.
But Wednesday, the party's over. Except it's really not. For whoever leads us, it's just beginning, and my guess is we will all be called upon at some point to be part of the solution.
But what are we going to do in the meantime? I know for a fact Wolf is going to need help with this.
Here's my question to you: How are you going to deal with election-withdrawal?
Interested to know which ones made it on air?

Nancy writes:
I'm going to start exercising and go back on my diet! No more nervous
eating while glued to the television. Unless McCain wins. Then nothing
matters.
Carolyn writes:
I will be so glad it is over. I will continue to pray and meditate. I
haven't felt this much anxiety since Katrina came through Laurel,
Mississippi and woke up to such destruction.
Kevin from Dallas, Texas writes:
The only thing sad about this election ending is that on Wednesday, you
guys will be back to reporting on the trials and tribulations of Lindsay
Lohan and Paris Hilton.
John from Pittsburgh, Pennsylvania writes:
I think I'll take up the lost art of reading to try to mitigate all the
sound byte damage that's been done to my brain.
Jack writes:
We won't, but the press will. They've got the obsession not the
electorate. All 24/7 news shows and programs should shut down for a
couple of weeks to go through detox. You would do us all a favor.
Donny writes:
I'll be basking in the glow of: "Bush isn't the president for very much
longer."
Bob from Morristown, N.J. writes:
If Obama wins, I'll tune in to see if I can do anything to help him
rescue our nation. If McCain wins, I'm opening a travel agency
specializing in one-way tickets.