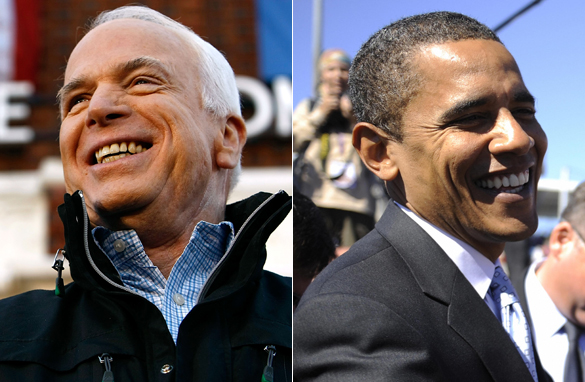 (PHOTO CREDIT: GETTY IMAGES)
FROM CNN's Jack Cafferty:
Voters have a distinct choice between John McCain and Barack Obama in this presidential race– two very different approaches to arguably the most serious set of challenges we have faced in a hundred years. Whoever wins will have his hands full.
But what about the rest of us? Our part is finished after we cast our ballots on November 4th, and after all the votes have been tallied, the excitement will be over.
Most of us will be happy with the outcome, but if you look at the latest polls, a good number of us won't be rushing to embrace the new leadership.
Either way a new administration means new faces at the top and new policies that will trickle down to all of us little people. The form of that trickle will determine the way a lot of our lives will go in the future.
Here's my question to you: How will your life change if your candidate loses?
Interested to know which ones made it on air?
Craig from Mission Viejo, California writes:
If Barack Obama wins or loses I'll still have to work hard and smart, live unselfishly, spend and save wisely, and hope momentum has been gained which can help right his country and the entire world. On second thought, if John McCain wins, maybe I'll just take up prayer.
Kevin from Dallas, Texas writes:
I'm for McCain, and I work for a big business. But unlike the big businesses that have hurt our economy so, the company I work for is ethical. If McCain loses, my company will probably be hit hard by new policies, as Obama bites the hand that feeds me. I'll make sure to keep my resume up to date.
Brandon writes:
If Barack Obama loses this election then nothing will change for me at all, and that's precisely the problem.
Patti writes:
Perversely, if the candidates' tax plans are followed, my husband and I will be over $8,000 a year richer if our candidate Barack Obama loses. How's that for a silver lining?
Ed from Egan, Minnesota writes:
Jack, If McCain and Palin would somehow win, I'm moving out of the country to someplace that has a real democracy.
M. writes:
Look for me on the next season of "Survivor" from wherever. I will not return.
Kevin from Chester Springs, Penn. writes:
If Obama loses, I will move to Washington D.C. and dedicate my life to making sure McCain lives out his full term.