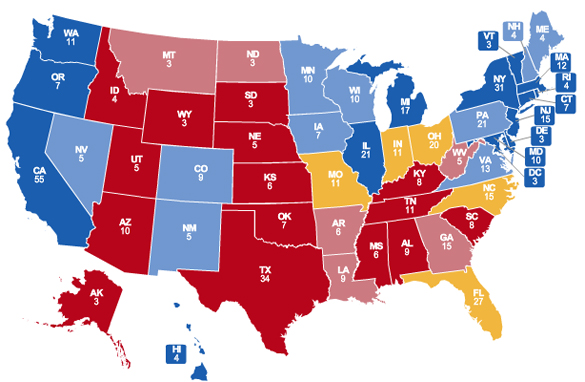 This CNN Electoral Map shows Barack Obama's lead, if the Election was held today. (PHOTO CREDIT: CNN.COM)
FROM CNN's Jack Cafferty:
The signs are increasingly ominous that John McCain's dream of being president is just about over. In one battleground state after another, Barack Obama's lead continues to grow. CNN's electoral map has been adjusted to suggest that if the election were held today, Barack Obama would get 291 electoral votes - it takes 270 to win - while John McCain would get just 163 - leaving 84 electoral votes up for grabs.
Barack Obama holds substantial leads in Pennsylvania, Nevada, Colorado and Virginia… all red states won by President Bush in 2004.
Obama also leads in Florida and North Carolina .
The Associated Press quotes GOP consultant Tom Rath in New Hampshire where McCain trails by double digits as saying the race is all but over, quote, "I get the sense it's shutting down," unquote.
AP also cites a senior GOP aide in Congress speaking on condition of anonymity as saying McCain advisers are now being asked by some Republican leaders to focus McCain's travel on states with close senate races… essentially abandoning his White House ambitions to help re-elect GOP Senators.
Here's my question to you: How close is the White House race to being over?
Interested to know which ones made it on air?
John writes:
I wish that I could believe it's over. I know, however, that the Republicans are capable of subverting the will of the people. What will it be this year? Probably not hanging chads, the Supreme Court, or screwed up polls in Ohio, but it will be something. So, I guess, put me in the column of knowing that Obama has the votes to win but the Republicans have the machinery in place to steal this election.
Dee from Antioch, California writes:
The race isn't over! It won't be over until all the polling stations close, and the last votes are counted. Also, there has been a new candidate introduced into the election. The new candidate is called "Voting Machines". Can we trust that our true vote will be counted?
Shannon from Thomasville, Georgia writes:
The race for the White House was over once John McCain's campaign unleashed Sarah Palin. She killed McCain's chances for the office of the presidency once she opened her mouth and nothing-save nonsense-starting coming out.
Art from Miller Place, New York writes:
McCain's presidential bid ended on September 15th when the economy tanked.
Kris writes:
If the polls are correct we are doomed, but I have faith that they aren't. It's pretty un American to delay the World Series last night for someone who isn't even the President. Some might think it's in the bag but, it isn't over until the fat lady sings!
Fred writes:
I think we can all read body language pretty good. Mc Cain has acquired the posture of a loser and his partner, Tinkerbell, is off sewing seeds for 2012.
Gary from North Carolina writes:
The Fat lady, her Fat husband and all the little Fat children have sung.