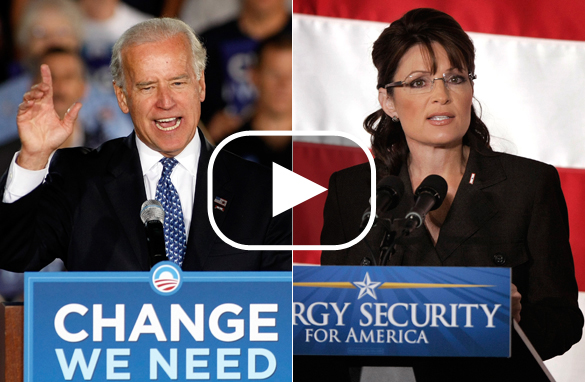 Click the play button to see what Jack and our viewers had to say. (PHOTO CREDIT: GETTY IMAGES)
FROM CNN's Jack Cafferty:
A lot's been made of Republican Vice Presidential nominee Sarah Palin going off-script and off-message over the past couple of weeks. Some of John McCain's aides aren't too pleased with some of the things coming out of her mouth. They say she's gone "rogue." she's been called a "diva." her supporters - and she has many– say it's just Sarah Palin, being Sarah Palin.
On the Democratic side, you're not seeing too much of Joe Biden being Joe Biden during these final days. In fact, Barack Obama's normally chatty running mate - known for some serious gaffes himself when unscripted - has been conspicuously quiet these past couple of weeks. Suddenly Biden, who will normally consent to an interview at the drop of a hat, has not made himself readily available to the media. As Time magazine's Karen Tumulty, who's been traveling with Biden, put it, at times he's like "a politician packaged in shrink-wrap."
Watch: Cafferty: VP pick could slip
And that's probably got a lot to do with remarks he made at a Seattle fund-raiser a couple of weeks ago when he said Barack Obama would be tested by an international crisis soon after being elected. Obama's public response was, quote "I think that Joe sometimes engages in rhetorical flourishes." But perhaps there was a private response too... And that's why these days there's "No Joe."
Here's my question to you: In the closing days, who is the greater risk for saying something harmful: Joe Biden or Sarah Palin?
Interested to know which ones made it on air?
Frank from Des Moines, Iowa writes:
I think Joe Biden has the responsibility to keep quiet until this election is over. We have already seen the negative ads and attacks from the McCain/Palin campaign. If Obama is in the lead according to the polls then it's pretty clear to me that Joe Biden could cause more harm to their campaign now by saying something he shouldn't.
Cammie writes:
I would have to say Palin. When it comes to showing her utter ignorance on most things political, she hasn't let me down yet!
Neerja writes:
Sarah Palin has the potential to much more damage in one speech than Joe Biden can ever do in a lifetime of gabbing. You have to see the difference in gaffes. Joe makes harmless sort of gaffes, and he has a lifetime of hard work and a brilliant career to fall back upon. Sarah, on the other hand, casts more and more doubt on McCain's judgment in picking her as running mate, whenever she makes a statement to national audience.
Grover writes:
I'm an Obama supporter and to me there is no question that Biden is much riskier than Palin at this point. Palin has been very good just sticking to the script and that's exactly what Biden can't do. No surprise that he's being contained by the Democratic camp.
David from Plant City, Florida writes:
With as deep as Obama has buried Biden in the closet, he is not a factor in this race at all. Obama is too powerful of a figure and he overshadows his VP so much that no one really cares what Biden says. Palin is the opposite. She overshadows the top of her ticket, so her words mean almost more than McCain's, and she is so out of it that every time she speaks she kills the polls for that ticket. She is what killed the Republicans.
Bernie from Lowell, Massachusetts writes:
They finally found a good use for duct tape.