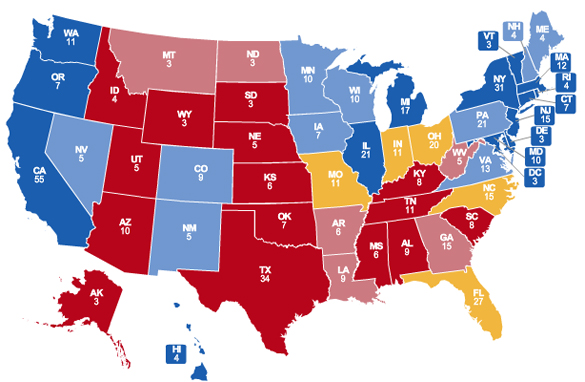 This CNN Electoral Map shows Barack Obama's lead, if the Election was held today. (PHOTO CREDIT: CNN.COM)
FROM CNN's Jack Cafferty:
The signs are increasingly ominous that John McCain's dream of being president is just about over. In one battleground state after another, Barack Obama's lead continues to grow. CNN's electoral map has been adjusted to suggest that if the election were held today, Barack Obama would get 291 electoral votes - it takes 270 to win - while John McCain would get just 163 - leaving 84 electoral votes up for grabs.
Barack Obama holds substantial leads in Pennsylvania, Nevada, Colorado and Virginia… all red states won by President Bush in 2004.
Obama also leads in Florida and North Carolina .
The Associated Press quotes GOP consultant Tom Rath in New Hampshire where McCain trails by double digits as saying the race is all but over, quote, "I get the sense it's shutting down," unquote.
AP also cites a senior GOP aide in Congress speaking on condition of anonymity as saying McCain advisers are now being asked by some Republican leaders to focus McCain's travel on states with close senate races… essentially abandoning his White House ambitions to help re-elect GOP Senators.
Here's my question to you: How close is the White House race to being over?
Interested to know which ones made it on air?