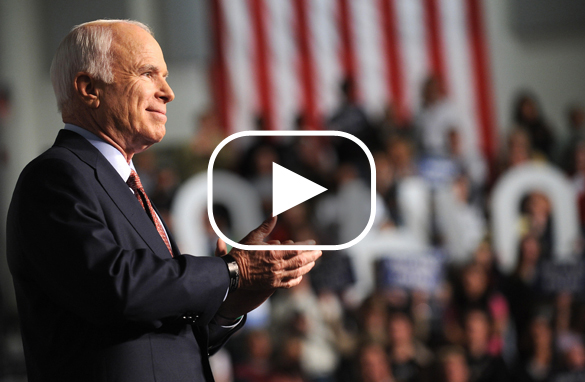 Click the play button to see what Jack and our viewers had to say. (PHOTO CREDIT: GETTY IMAGES)
FROM CNN's Jack Cafferty:
Speaking Sunday on "Meet the Press," Senator John McCain guaranteed a win in next Tuesday's election. He said, "We're going to win it, and it's going to be tight, and we're going to be up late." However if the polls are anywhere near accurate it was sort of a "Dewey beats Truman" moment.
In order to make good on his promise, McCain has some heavy lifting to do in a handful of battleground states. Traditional red states like Virginia and Colorado seem to be slipping away. In Pennsylvania, Obama holds a 10-point lead over McCain, 52 percent to 42 percent according to a new CNN Poll of Polls. Those numbers appear to be holding firm despite furious campaigning by Senator McCain. Obama was ahead by that same margin last week. The McCain camp has called Pennsylvania a must-win state….
McCain has made up some ground in Florida. A new CNN Poll of Polls there shows the race is tightening with Obama now holding a single point lead. Last week, Obama was up by 3 in Florida.
Watch: Cafferty: Can McCain win?
But winning Florida won't be enough. He's got to win over North Carolina, Missouri, Ohio, and Nevada too. And that's a pretty tall order with just a week to go.
Here's my question to you: What does John McCain have to do to come from behind and win?
Interested to know which ones made it on air?
Carole from Florida writes:
Fortunately, I don't think there's anything he can do at this point. McCain has run one of the most vicious, ugly, filthy campaigns most of us have ever see when he promised a "decent and respectful campaign." He picked a running mate who is unqualified, uneducated and totally inappropriate. I'm not sure this woman could lead a choir let alone this country.
Matt from Lorain, Ohio writes:
Jack, the only way he could possibly pull this off is if he "Bushes" his way into office. And by "Bush"ing it I mean, lie, steal, and cheat his way to victory.
Toby from New Orleans, Louisiana writes:
To win, McCain has to fly to Pakistan and single handedly capture Osama Bin Laden. Anything short of that, and he loses on Nov. 4th.
Greg writes:
Fire Palin, sell 10 of his houses and 15 of his cars, and start telling the truth.
Marcy from Mobile, Alabama writes:
He needs to hope that Obama supporters decide that Obama doesn't need their vote because he has it in the bag and thus they decide to spend their Tuesday doing something else.
Cindy from Toronto writes:
Put Palin on the top of the ticket.
John from White Plains, New York writes:
It's simple: just tell the American people the truth. "The country is broken and I don't know if I can fix it but I will do my best."
Peebo writes:
There's nothing in the world McCain can do now, besides getting as chummy as possible with old man Diebold and pre-perforating some chads.