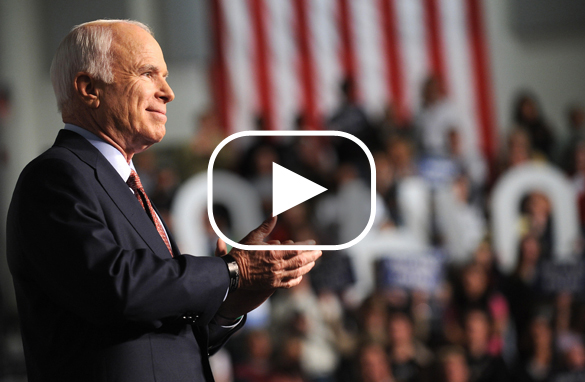 Click the play button to see what Jack and our viewers had to say. (PHOTO CREDIT: GETTY IMAGES)
FROM CNN's Jack Cafferty:
Speaking Sunday on "Meet the Press," Senator John McCain guaranteed a win in next Tuesday's election. He said, "We're going to win it, and it's going to be tight, and we're going to be up late." However if the polls are anywhere near accurate it was sort of a "Dewey beats Truman" moment.
In order to make good on his promise, McCain has some heavy lifting to do in a handful of battleground states. Traditional red states like Virginia and Colorado seem to be slipping away. In Pennsylvania, Obama holds a 10-point lead over McCain, 52 percent to 42 percent according to a new CNN Poll of Polls. Those numbers appear to be holding firm despite furious campaigning by Senator McCain. Obama was ahead by that same margin last week. The McCain camp has called Pennsylvania a must-win state….
McCain has made up some ground in Florida. A new CNN Poll of Polls there shows the race is tightening with Obama now holding a single point lead. Last week, Obama was up by 3 in Florida.
Watch: Cafferty: Can McCain win?
But winning Florida won't be enough. He's got to win over North Carolina, Missouri, Ohio, and Nevada too. And that's a pretty tall order with just a week to go.
Here's my question to you: What does John McCain have to do to come from behind and win?
Interested to know which ones made it on air?