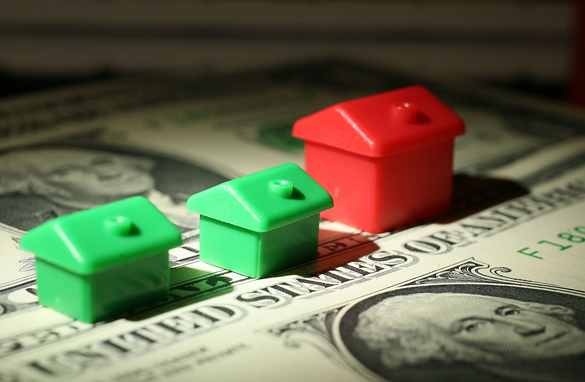 (PHOTO CREDIT: GETTY IMAGES)
FROM CNN's Jack Cafferty:
U.S. stock markets followed overseas markets as the global equities meltdown continues with another sharp decline. Overnight last night stocks fell almost 10% in Tokyo and more than 8% in Hong Kong. European markets didn't fare much better.
Investors around the world are becoming more and more convinced that a long, deep recession is beginning.
They're probably right.
The U.S. economy has lost jobs for nine straight months with no end in sight– more than 760,000 slashed from payrolls so far this year. Another devastating jobs report is likely on November 7, three days after we elect our next president.
The housing crisis isn't letting up either. More than 81,000 homes were lost to foreclosure in September alone. There are no signs things are about to get better any time soon…regardless of what happens on Election Night.
Here's my question to you: How much will troubling economic news influence what happens on Election Day?
Interested to know which ones made it on air?
Bob from Morristown, N.J. writes:
The economy is once more demonstrating that the unregulated, unbridled greed of Reagan, Bush and Cheney doesn't work. It doesn't lift all ships; it sinks the critical ones. It doesn't "trickle down," it drowns those at the middle and bottom. As George HW Bush rightly called it, it's voodoo economics.
James from North Carolina writes:
The last time I looked at my 401(k), it was painful. When I vote on November 4th, I intend to make sure that all Republicans in North Carolina feel my pain.
David writes:
The economy has turned this election upside down. But the real story is the total incompetence of George W. Bush. McCain can huff and puff but he can't blow away his 90% support of Bush, including Bush's economic policies.
Bob writes:
I think our financial challenges will help change the political tide in our country. Our global economy is experiencing unprecedented times and to be blunt perhaps the metrics need to be recalibrated to measure the economy that we are seeing and experiencing. To see my families savings both 401(K)s and retirement accounts dissipate in a matter of weeks, and we are talking about 7, 10, 15 years of savings, the economic hemorrhaging has to stop.
Jim from Desoto, Texas writes:
John McCain's economy and households are fine and dandy at all the houses, wherever they may be. McCain's voting for McCain. The rest of us, not so much. Go Obama!
Rod writes:
Can you say landslide Jack?