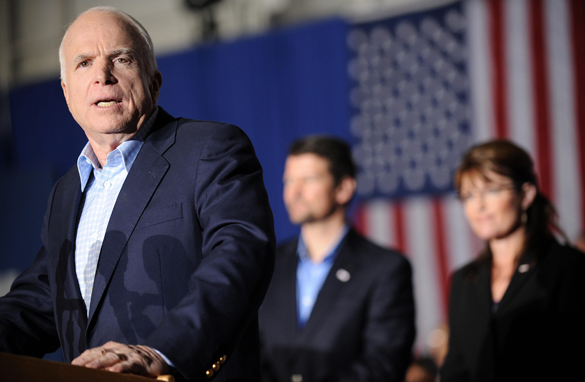 A recent CNN-Opinion Research Corporation poll found 60 percent think McCain has unfairly attacked Obama. (PHOTO CREDIT: GETTY IMAGES)
FROM CNN's Jack Cafferty:
John McCain said this on February 3, 2008, when talking about his run for the White House: "We will run an honorable campaign."
McCain made that statement in response to a question about whether his campaign would resemble George Bush's run for the White House in 2000, one of the nastier campaigns on record.
With less than 2 weeks before Election Day, it's very much an open question whether John McCain has kept his word.
In fact, in the last few weeks John McCain has become downright nasty. It started around the time one of his advisers said that if McCain campaigned on the economy, he would lose. And the ugly personal attacks began. Barack Obama's past acquaintance with William Ayers, Barack Obama's economic plan is socialism, Barack Obama will say anything to get elected.
His running mate, Sarah Palin, has chimed in with such gutter-level rhetoric as Obama pals around with terrorists.
The sudden negative tone for the man who vowed to run an honorable campaign is not going unnoticed by the voters. A recent CNN-Opinion Research Corporation poll found 60 percent think McCain has unfairly attacked Obama, up from 42 percent in September.
It's sad that an honorable man like John McCain in a desperate struggle to avoid being embarrassed on November 4th has resorted to campaign tactics typically associated with people who can make no legitimate claim to being honorable.
Here's my question to you: John McCain promised to run an "honorable" campaign. Has he?
Interested to know which ones made it on air?
Shawn writes:
Oh please, Jack! John McCain has not run an "honorable" campaign. I'm sure you've been watching Senator McCain's shift in gradual campaign ugliness as he gets further behind in the polls. McCain has spent more time attacking Senator Obama than he has providing answers for this country and tutoring Governor Palin.
Sami from Arizona writes:
The Robocalls and false information being spread in vile brochures by the campaign have put him over the top in the area of dishonor and disservice to the nation as a whole. McCain may have been honorable with his service in the past and even the principles he once had. However, he has lost himself through this process and has been sucked into the RNC machine.
Debi writes:
An honorable man running a dishonorable campaign...very disheartening to see.
David from West Chester, Penn. writes:
Welcome back, I sure missed you. McCain is running a typical dirty Republican campaign that will relegate him and Benedict Lieberman ineffective when they return to the Senate. His well-dressed running mate will become a host at QVC.
C.J. from Georgia writes:
Which John McCain? 2000 or 2008? The John McCain now has let the inmates take over the mental institution!
Sarah writes:
John McCain has lost a lot of the respect and honor he had from people on both sides of the aisle as well as from the general public. I think he will lose the election and in the future he will come to really regret the campaign he has run. Even if he was 32, he would struggle to repair his reputation. Being 72, he has no chance.
Heather from Elko, Nevada writes:
Has McCain run an honorable campaign? Is Jack Cafferty a sexy young chick?