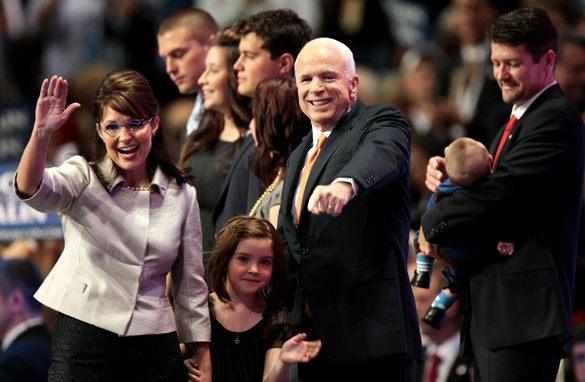 The Associated Press reports Sarah Palin charged the state of Alaska for some of her children's travel expenses since she became governor. (PHOTO CREDIT: GETTY IMAGES)
FROM CNN's Jack Cafferty:
We're learning more and more about Alaska Governor Sarah Palin... You know the Republican Vice Presidential candidate who is running on a platform of reform.
First there's the investigation into whether Governor Palin abused the power of her office in order to fire the former Public Safety Commissioner of Alaska.
Now we learn the Republican National Committee spent $150,000 on Governor Palin's wardrobe, hair and makeup shortly after John McCain named her to be his running mate. This included a 75-thousand dollar shopping spree in Minneapolis and more than $4,000 on hair and make-up in September alone.
But here's the topper. The Associated Press reports Sarah Palin charged the state of Alaska for some of her children's travel expenses since she became governor. More than $21,000 worth of airfares and hotels all on the Alaska taxpayers' dime. The AP reports Palin altered the expense reports to indicate her children were on "official business."
The kids weren't even invited to some of these events they were flown too.
How do you present yourself as any kind of candidate of reform when the sleazy practices you employ put you in the same category as every other sleazy, opportunistic politician that has preceded you?
Here's my question to you: Should Sarah Palin reimburse Alaska taxpayers for her kids' travel and entertainment expenses?
Interested to know which ones made it on air?

Lauren writes:
She should repay the taxpayers of Alaska. This kind of "entitled" behavior is what I expect from entrenched politicians, not a maverick reformer. Many of us moms have to travel for our jobs, but no one I know gets reimbursed for family members who tag along. Even if she did not violate Alaska tax laws, her behavior was highly unethical.
LaVerne from Los Angeles, California writes:
Yes, Sarah Palin should reimburse the Alaska tax payers for her family's travel expenses. She wants everyone to think that she is just like every day people yet the McCain campaign spends $150,000 on clothes for her and her family. How many everyday people shop at Nieman Marcus and Saks? Then they stage a political stunt by just dropping in to Wal-mart to pick up Pampers for her baby.
John writes:
Too late. Palin can apologize and reimburse all she wants. We've already seen what kind of a "reformer" she is.
Barrows writes:
Let me remind you that Gov. Palin informed us with glee that she was someone who would fight against the misuse of government funds by officials. Well, I'd like to know how she defines misuse, because clearly she has her own definition for a lot of terms.
Jack from Washington, D.C. writes:
I gotta tell you, Jack, this reform she's claiming got me all confused and worked up. This lady is running around in a frenzy criticizing Obama for tax cuts to the middle class when she's the first one to spend taxpayers' money on her family. How hypocritical is that?
Christine from Edmeston, New York writes:
So she took the money out of the Alaskan taxpayers' pockets for her own use. What's the problem? Hey, Joe the Plumber, Look! It's Sarah Palin showing you what "distributing the wealth" really means.
Buki writes:
How can someone who calls herself a reformer spend $150,000 or so on wardrobe in 2 months? That's my household income for 4 years.