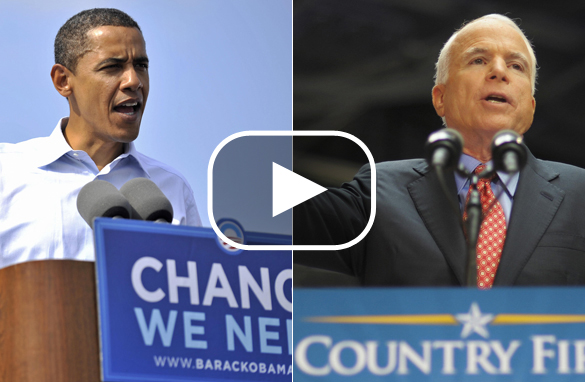 Click the play button to see what Jack and our viewers had to say.(PHOTO CREDIT: GETTY IMAGES)
FROM CNN's Jack Cafferty:
We've never had a situation like this before, where a national crisis has intervened six weeks before a presidential election. So far, despite all the grandstanding, Senators Obama and McCain have had little impact on the debate surrounding the Wall Street rescue plan.
Today, McCain said of the failed bailout package: "We didn't do a good enough job. We'll go at it. I'm glad to stay at it. That's what my job is as an American, not as a candidate for president."
He's said he'll return to Washington to help with negotiations. You remember how well that worked last week when he parachuted into Washington to save the day. He was going to cancel last Friday's debate if there wasn't a deal. But there was no deal and he went anyway. His campaign said he was confident enough there would be a deal. But there was no deal. At the end of the day McCain looked a little silly.
Watch: Cafferty: Bailout Role?
But this was a failure on both parties' part. Two-thirds of Republicans and about one-third of Democrats in the House voted against the bailout plan. Barack Obama supported it. In the wake of yesterday's failure, he has urged calm. He doesn't want Congress to start over on the bill. "Given the progress we have made," Obama said, " I believe we are unlikely to succeed if we start from scratch or reopen negotiations about the core elements of the agreement."
Here's my question to you: When it comes to the bailout package, what's the proper role for the presidential candidates?
Interested to know which ones made it on air?
Robert writes:
None. By definition, Presidential candidates are deep in politics, and this rescue is no place for politics. As good practice (and good examples) they should let the Congress do its job first, then do all they can to support and sell it.
Marie writes:
I think they should monitor the situation from a distance and let the lawmakers do their part. What John McCain did last week indicated that he is more comfortable as a senator than a Presidential candidate and for that reason, he should return to the Senate.
Joan writes:
Their role is to educate the public, in a nonpartisan way, as to why the rescue plan is needed, a task that both the President and Congress have failed to perform. The media have been quite good in the past week, but as usual, too little education, too late–after too many weeks and months of Britney, Anna Nicole, murder and mayhem. I fear for the future when the public is so poorly informed.
Johaad writes:
What role, Jack? How about the understudy? They should only be involved if called upon by their Senate peers.
Valerie from Pittsburgh, Pennsylvania writes:
Obama and McCain should be acting like senators. While I'm not a Republican, I fully agree with McCain's decision to return to Washington. That's what we're paying them for. All three candidates who are senators should have returned to Washington at once.
Jess writes:
Both candidates should stay out of it. Neither is in a position of authority that matters. They are aspiring to it, but are not there yet. Neither serves on any committee involved in the negotiations. They need to concentrate on their and the nation's most immediate need: They need to tell us, in great detail, how they would do things not only differently, but better.
Richard from Texas writes:
The day the Senate votes, show up and vote. Other than that, keep quiet.