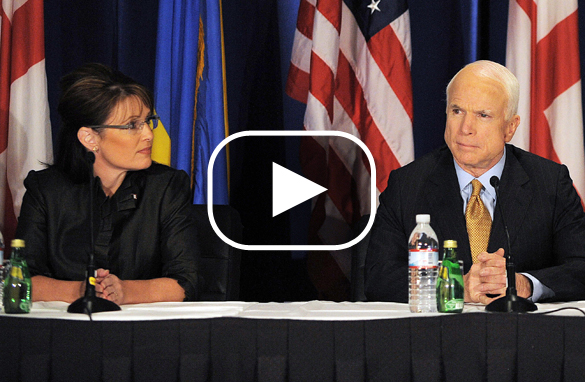 Click the play button to see what Jack and our viewers had to say. (PHOTO CREDIT: GETTY IMAGES)
FROM CNN's Jack Cafferty:
There is a reason the McCain campaign keeps Governor Sarah Palin away from the press.
This is a direct excerpt from Katie Couric's One-On-One interview with Sarah Palin, which aired Wednesday on CBS.
COURIC: Why isn't it better, Governor Palin, to spend $700 billion helping middle-class families struggling with health care, housing, gas and groceries? … Instead of helping these big financial institutions that played a role in creating this mess?
PALIN: Ultimately, what the bailout does is help those who are concerned about the health care reform that is needed to help shore up the economy– Oh, it's got to be about job creation too. So health care reform and reducing taxes and reining in spending has got to accompany tax reductions.
Watch: Cafferty: Palin fit to be president?
If McCain wins, this woman will be a 72-year- old heartbeat away from being president of the United States.
Here's my question to you: Is Governor Sarah Palin qualified to be president?
Interested to know which ones made it on air?
Bit from Alabama writes:
No, Jack. As Conservative Columnist Kathleen Parker states it: "Only Palin can save McCain, her party, and the country she loves. She can bow out for personal reasons, perhaps because she wants to spend more time with her newborn. No one would criticize a mother who puts her family first."
Larry writes:
No. But I feel sorry and embarrassed for Sarah. McCain has sucked her into an 'opportunity' akin to a sub-prime mortgage situation on a house she cannot afford.
Ron writes:
Finally, someone in politics has appeared that can make G.W. look like an intellectual.
Andrea from Malagash, Nova Scotia writes:
As an American, living in Canada, I cannot agree with you more about Sarah Palin's sorry, sorry, sorry interview with Katie Couric. The real question here is "What was McCain thinking?"
Rachel writes:
Absolutely not. McCain should be ashamed of himself for making such a joke out of the Presidential election. Palin's interview with Katie Couric was the most pitiful thing I've ever seen. If she really loves her country, she needs to dismiss herself from this election. It would just be the right thing to do.
Tom writes:
Sarah Palin makes Dan Quayle look like a genius.
Laurie from Eau Claire, Wisconsin writes:
No, but Saturday Night Live would sure appreciate it!