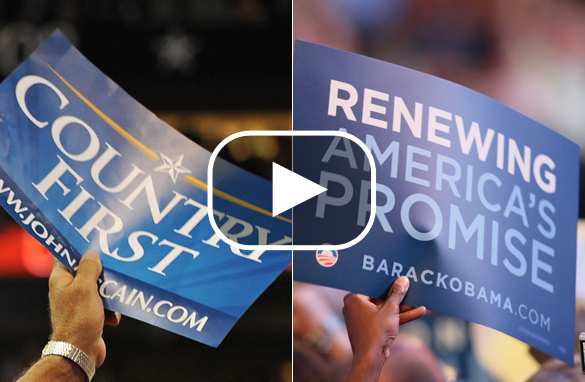 Click the play button to see what Jack and our viewers had to say. (PHOTO CREDIT: GETTY IMAGES)
FROM CNN's Jack Cafferty:
There is a chorus of voices suggesting we should be very afraid:
President Bush, "Our entire economy is in danger."
Treasury Secretary Paulson, the average American "should be scared."
Warren Buffett called the turmoil in the markets an "economic Pearl Harbor."
Former GE chair Jack Welch says America's in for "one hell of a deep downturn."
Not exactly the easiest climate for the next president to start his new job in...
And yet two men– Senator John McCain and Senator Barack Obama– still want the job.
Watch: Cafferty: Economy and voting
John McCain announced late yesterday he was suspending his campaign and rushing back to Washington. He called for tomorrow's debate to be postponed. Obama and McCain put out a joint statement calling for a bipartisan effort to deal with the crisis. But lawmakers beat them to the punch without the benefit of campaign politics.
Now it's back to the campaign trail for Obama and McCain-with both of them trying to convince us he knows more about fixing this mess than the other guy.
Here's my question to you: Has the deepening financial crisis changed your mind on who to vote for for president?
Interested to know which ones made it on air?
Felix from Texas writes:
Obama is a class act. The economic hurricane has swept McCain away. And he is running away from the debate he negotiated months ago. This moron does not get it. By refusing to debate, he is hurting the people more. Imagine the money that Mississippi should have made from hotels, restaurants and other businesses. Not to mention the money TV Stations and advertisers have invested.
Troy from Ohio writes:
I've always known who to vote for, Jack. This crisis didn't change my mind. Obama is my man, and this country can't go with a candidate that promises Bush's third-term. I just hope 18 million people don't get it wrong again.
Alan from Albany, California writes:
Yes. I'm voting for Nader. The Republicans and Democrats are unsafe at any speed.
Satish writes:
It's a dumb question: You go to the more experienced person in this time of crisis. It's John McCain I will be voting for.
Ken writes:
No the economic troubles have not changed my vote. My wife and I just bought our first house and although we are struggling we believe we can recover as a nation if we elect the right leader and that leader is Barack Obama. John McCain's antics throughout his campaign have only showed how dangerously out of touch with the American people and reality he really is.
Rinna writes:
Yes. We need a president who is calm and collected and does not panic. I used to like McCain but the present economic crisis freaked him out. He is not ready to be president after all. I think he is ready to retire from public service.
Ray from Indiana writes:
Ever since 1964, I have voted for the lesser of the two evils. I will continue with this approach by voting a straight Democratic ticket this time.